11 parties join hands to present third front,Third Front takes shape but Naveen Patnaik distances himself,Third Front,Naveen Patnaik,CPM,Congress,BJP,Third front,Lok Sabha elections 2014,JD(U),Samajwadi Party,AIADMK,JD(S),Jharkhand Vikas Morcha,loksabha ,
Details

Parent Category: Political News
Last Updated:

Thursday, 22 January 2015 20:54
Third Front takes shape but Naveen Patnaik distances himself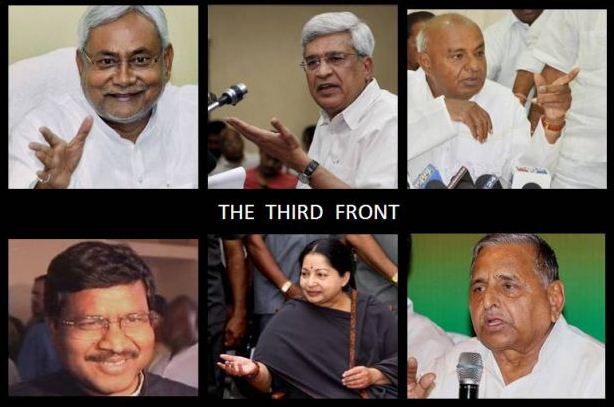 New Delhi: While 11 parties led by Left on Tuesday vowed to offer an alternative to the BJP and Congress, the Asom Gana Parishad and the Biju Janata Dal, which abstained, appear to have sent a signal that they would prefer to keep their options open in the post poll scenario.

After 17 parties joined the Left backed convention against communalism in November last year in New Delhi, the number fell to 11 as parties brainstormed on the way ahead, but left the issue of their PM candidate open.

After the meeting, the 11-party combine issued a joint declaration where they resolved to "throw out the Congress from power". They also vowed to defeat the BJP and ensure that "communal forces" don't come to power at the Centre after the polls. Leaders of the JD(U), Samajwadi Party, AIADMK, JD(S), Jharkhand Vikas Morcha and four Left parties attended Tuesday's meet.

Also Read:- Lok Sabha 2014 Updates| Opinion poll |Candidate list for upcoming elections|Election Schedule| National News 
While SP boss Mulayam Singh Yadav and AIADMK supremo J. Jayalalithaa have clear PM ambitions, CPM leader Prakash Karat reflected the consensus view that it would be discussed after the polls. "Never ever in the past have we fought on this issue. We have had Morarji Desai, V.P. Singh, H.D. Deve Gowda and Inder Kumar Gujral. All these names were decided unanimously after the polls," said the SP chief.

The 11 parties also made it clear they would not seek the support of the Congress or the BJP to form a government at the Centre if they failed to get past the magic figure of 272 in the Lok Sabha.
Source: Deccan Chronicle,Times of India