Ready for alliance with BJP, says leader from Ram Vilas Paswan's LJP,BJP,LJP,Ramvilas Paswan,Sushil Kumar Modi,ljp ,bjp ,rjd ,congress ,ram vilas paswan ,lalu prasad yadav ,narendra modi ,2014 lok sabha,Political news,LOK sabha polls 2014,general election
Details

Parent Category: Political News
Last Updated:

Thursday, 22 January 2015 20:54
Prospects of Ram Vilas Paswan's LJP joining the BJP-led NDA look brighter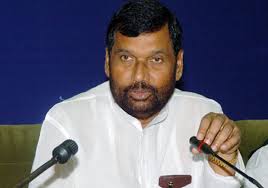 Patna: In election season, every party is hoping to get lucky with alliances. Sunday saw the first signs of political realignment. By 1 pm in the afternoon, Telangana Rashtra Samithi (TRS) chief K Chandrashekar Rao accompanied by his family members called on Congress President Sonia Gandhi.
It may have been a thanksgiving exercise, but Mr Rao seems to have set the stage for a renewal of his ties with the Congress. But for another Congress ally, it is time to look elsewhere. Barely a couple of hours after Mr Rao met Mrs Gandhi, news came out that Lok Janshakti Party (LJP) chief Ram Vilas Paswan, a potential ally of the Congress in Bihar, may be tying up with the BJP for the Lok Sabha elections.
Mr Paswan, who is camping in Delhi, did not comment. His son too wasn't ready to spell out the party's plans. However, a senior party leader expressed the LJP's willingness to go with the BJP.
"The alliance between the BJP and the LJP is confirmed. It will be officially announced soon," said LJP leader Suraj Bhaan.
Just last month, Mr Paswan had announced that his party, along with Lalu Prasad's Rashtriya Janata Dal (RJD) and the Congress, will contest the next Lok Sabha elections jointly in Bihar.

Also Read:- Lok Sabha 2014 Updates| Opinion poll |Candidate list for upcoming elections|Election Schedule| National News 
Sources say Mr Paswan, who had walked out of the BJP-led NDA post the 2002 Gujarat riots, made a U-turn as he reportedly wanted a minimum of 10 seats out of the 40 Lok Sabha seats in Bihar, but the RJD and the Congress were not ready to concede more than five seats to his party.
Mr Paswan is also reportedly adamant on two seats - he wants to field his son Chirag from Jamui and his younger brother Ramchandra Paswan from Samastipur. However, the Congress wants its state unit president Ashok Choudhary to contest from Jamui and former leader of the Congress Legislative Party in Bihar Ashok Ram from Samastipur.
Sources in the Congress say the LJP's move is political posturing.
Meanwhile, earlier today, hinting at a possible tie-up between the BJP and the LJP in Bihar, former Deputy Chief Minister Sushil Kumar Modi alleged that the UPA government was misusing the Central Bureau of Investigation (CBI) against Mr Paswan in the recruitment scam in a public sector undertaking after efforts to cobble up an alliance with the LJP appeared to be falling apart.
"We strongly condemn the UPA government for misusing the CBI against political adversaries, this time against Paswan," he said.
Source: NDTV,Economic times