Kerala Caste wise demographics,

Caste

/Religion Wise population

Religion in Kerala, Kerala Basic Information
Kerala Caste wise demographics, Caste/Religion Wise population in Kerala, Demographics of Kerala, religion wise population in Kerala, Kerala Population, Kerala Population and Census, Religion in Kerala, Kerala Basic Information
Kerala is a state in south-western India. Most of Kerala's 33.3 million people (in 2011) are of Malayali (Malayalam language speaking) ethnicity.

Malayalam is Kerala's official language and is spoken by at least 96% of the people of Kerala; the next most common language is Tamil, spoken mainly by Tamil workers from Tamil Nadu and the local Kerala Iyers. Tulu and Kannada is spoken in most parts of the northern district of Kasaragod, adjoining Karnataka.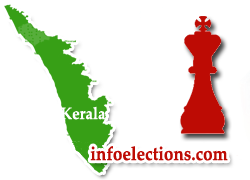 Details about the population of Kerala based on India Census 2011. Kerala district wise population, population based on religion in Kerala. Get complete demographics about Kerala.
Kerala has a unique record in India for the harmonious coexistence of diverse religions. Hindus, Christians and Muslims are the major religious communities of the state, although a small population of Jains, Sikhs, Buddhists, Jews and some others are also present.
Castes of Kerala

Caste
Population (%)

Ezhavas

23%

Nairs

14%

Dheevars

3%

Scheduled Castes

9.8% (includes Pulayars- 3.27%)

Scheduled Tribes

1.14%

Brahmins

1%

Muslims

26.56%

Christians

18.38%

Others

3%
| | | | | |
| --- | --- | --- | --- | --- |
| Religion | Population | % | Dist. with highest Population | Dist. with lowest Population |
| Hindus | 1,82,82,492 | 54.73 | Thiruvananthapuram | Malappuram |
| Muslims | 88,73,472 | 26.56 | Malappuram | Pathanamthitta |
| Christians | 61,41,269 | 18.38 | Ernakulam | Malappuram |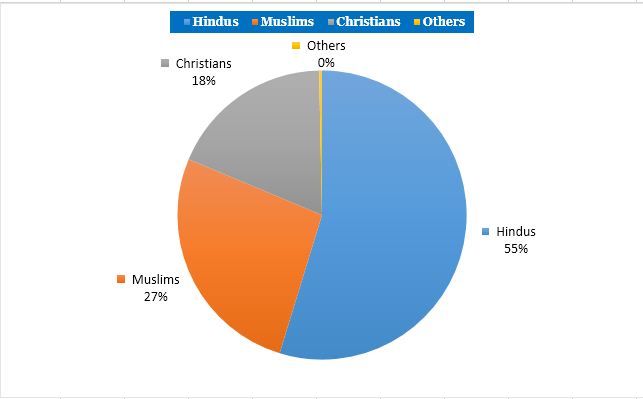 2011 census details (2001 in brackets)
| | | | | |
| --- | --- | --- | --- | --- |
| Districts | Population | Percent Hindus | Percent Muslims | Percent Christians |
| Thiruvananthapuram | 3,301,427(3,307,284) | 66.94% | 13.72% | 19.10% |
| Kollam | 2,635,375(2,629,703) | 64.42% | 19.29% | 15.99% |
| Pathanamthitta | 1,197,412(1,195,537) | 56.93% | 4.59% | 38.12% |
| Alappuzha | 2,127,789(2,121,943) | 68.64% | 10.55% | 20.45% |
| Kottayam | 1,974,551(1,979,274) | 49.81% | 6.41% | 43.48% |
| Idukki | 1,108,974(1,107,453) | 48.86% | 7.41% | 43.42% |
| Ernakulam | 3,282,388(3,279,860) | 45.99% | 15.67% | 38.03% |
| Thrissur | 3,121,200(3,110,327) | 58.42% | 17.07% | 24.27% |
| Palakkad | 2,809,934(2,810,892) | 66.76% | 28.93% | 4.07% |
| Malappuram | 4,112,920(4,110,956) | 27.60% | 70.24% | 1.98% |
| Kozhikode | 3,086,293(3,089,543) | 56.21% | 39.24% | 4.26% |
| Waynad | 817,420(816,558) | 49.48% | 28.65% | 21.34% |
| Kannur | 2,523,003(2,525,637) | 59.83% | 29.43% | 10.41% |
| Kasargod | 1,307,375(1,302,600) | 55.83% | 37.24% | 6.68% |