Prominent Leaders
Hemant Soren Biography Family Address contact Website Professional career, Hemant Soren, Who is Hemant Soren, Know about Hemant Soren JMM, Hemant Soren political Career, position held by Hemant Soren, Hemant Soren Assets Criminal records liabilities Achie
Details

Parent Category: Indian Politics
Last Updated:

Wednesday, 02 November 2016 16:25
Hemant Soren Biography Family Address contact Website Professional career, Hemant Soren, Who is Hemant Soren, Know about Hemant Soren JMM, Hemant Soren political Career, position held by Hemant Soren, Hemant Soren Assets Criminal records liabilities Achievements Awards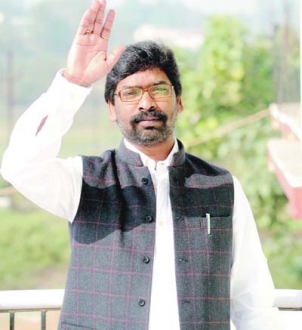 Hemant Soren (born 10 August 1975) is the 5th Chief minister of Jharkhand, a state in Eastern India. Formerly, he was a Deputy Chief Minister in the Arjun Munda ministry. He belongs to the Jharkhand Mukti Morcha political party.

Early life :Soren was born in Nemra in Ramgarh district, Bihar to Roopi and Sibu Soren, former Chief Minister of Jharkhand. Hemant has two brothers and a sister. His educational qualification is Intermediate from Patna High School, Patna.
Political Career :
Hemant started his political career on December 23, 2009 by getting elected as MLA. On June 24, 2009 he became member of Rajya Sabha. On September 11, 2010, he became Jharkhand Deputy CM and remained in that position till January 8, 2013. He assumed the CM's chair on July 13, 2013 and is the incumbent Chief Minister of Jharkhand. Some of the major departments he has held include Planning & Development, Cabinet (Election and Vigilance), Home, Cabinet Co-ordination, Information and Public Relations, Administrative Reforms & Raj Bhasha, Law, and others.
| | |
| --- | --- |
| Constituency | Barhait (St) (Sahebganj ) |
| Name | Hemant Soren |
| Party | JMM |
| S/O,D/O,W/O | Shibu Soren |
| DOB | 10-Aug-75 |
| Address | R/O. Harmu Housing Colony B-Type, Po-Doranda, Thana-Argora Dist. Ranchi, Jharkhand |
| Self Profession | Social Service & Government Employee |
| Spouse Profession | Social Service & Business & Others |
| Criminal Cases | 4 |
| Education | 12Th Pass |
| Total Asset | Rs:3,50,76,527 |
| Liablities | Rs:19,01,950 |
| Email | This email address is being protected from spambots. You need JavaScript enabled to view it. |
| Contact | 9431106949 |
| Mother Name | Smt. Roopi Soren |
| Religion | Hinduism |
| Spouse | Smt. Kalpana Soren |
| Children | 2 sons |
| Educational Qualification | Successfully completed Intermediate from Patna High School, Patna and Also studied at BIT, Mesra, Ranchi Jharkhand. |
Position Held:
Elected as MLA on 23rd December 2009.

Rajya Sabha member from 24th June 2009 to 4th Jan 2010.

Deputy CM from 11th September 2010 to 8th January 2013.

He was sworn as the Chief Minister of Jharkhand on 13 July 2013.
As Chief Minister :He was sworn in as the Chief Minister of Jharkhand on 13th July 2013 with the support from Congress and RJD after president's rule was removed from the state. He is the youngest Chief Minister of a state in India.
ELECTION RESULT
Jharkhand - Barhait (Winner)


Jharkhand - Dumka (Runner)


Result Declared

Result Declared

Candidate

Party

Votes

Candidate

Party

Votes

HEMANT SOREN

Jharkhand Mukti Morcha

62515

LOIS MARANDI

Bharatiya Janata Party

70367

HEMLAL MURMU

Bharatiya Janata Party

38428

HEMANT SOREN

Jharkhand Mukti Morcha

65105

SIMON MALTO

Jharkhand Vikas Morcha (Prajatantrik)

14161

BABLU KUMAR MURMU

Jharkhand Vikas Morcha (Prajatantrik)

4573

MONIKA KISKU

Indian National Congress

7151

SAGEN MURMU

Indian National Congress

3615

SANATAN MURMU

Communist Party of India (Marxist)

3555

BABU DHAN MURMU

Independent

3514

MANGAL HANSDA

Independent

1274

GARJEN MURMU

Jharkhand Party

2058

CHHOTO HANSDA

Independent

1270

RAJESH BESRA

Independent

1465

KALDA TUDU

Bahujan Mukti Party

1237

BAGHRAI SOREN

Independent

1349

NILAN SOREN

Independent

1187

BHUNDA BASKI

Communist Party of India (Marxist-Leninist) (Liberation)

869

BUDAN HEMBRAM

Shivsena

1088

PITAR HEMBRAM

Revolutionary Socialist Party

544

DILIP KUMAR MARAIYA

Lok Jan Vikas Morcha

1054

PREM CHANDRA KISKU

Jharkhand People's Party

474

None of the Above

None of the Above

2462

None of the Above

None of the Above

320