Download Vadodra Gujarat Voter List 2017 Search Name in Voter List Ward wise Vadodra Voter list ward wise,Vadodra local body voter list search 2017 by Name ID, Updated Vadodra voter slip,Vadodra Municipal Corporation voter list 2017.
Vadodara District is a district in the eastern part of the state of Gujarat in western India. The city of Vadodara (Baroda), in the western part of the district, is the administrative headquarters. Vadodara District covers an area of 7,794 km². It had a population of 3,641,802 of which 45.20% were urban as of 2001 census. As of 2011 it is the third most populous district of Gujarat (out of 26), after Ahmadabad and Surat.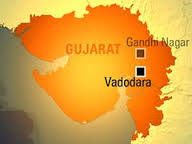 Maharaja Sayajirao was one of the foremost administrators and reformers of his times. He initiated a series of bold socio-economic reforms. He attached great importance to economic development and started a number of model industries to encourage initiative, and then handed back the working industries to private enterprise. He started model textile and tile factories.
---
Assembly segments
Click the Links below to view Draft List Of Polling Stations in Vadodara..Click here...>>>
Vadodara By-Poll Election 2014 Results
| | | | | | | | | |
| --- | --- | --- | --- | --- | --- | --- | --- | --- |
| Winner | Sex | Party | Vote | Runner up | Sex | Party | Vote | Vote Margin |
| Ranjanaben Dhananjay Bhatt | M | BJP | 526763 | Narendra Ravat | M | INC | 197256 | 329507 |
Vadodara General Election 2014 Results
| | | |
| --- | --- | --- |
| Candidate | Party | Votes |
| Narendra Modi | Bharatiya Janata Party | 845,464 |
| Mistri Madhusudan Devram | Indian National Congress | 275,336 |
| Sunil Digambar Kulkarni | Aam Aadmi Party | 10,101 |
| Rohit Madhusudan Mohanbhai | Bahujan Samaj Party | 5,782 |
| Tapan Dasgupta | Socialist Unity Centre of India (Communist) | 2,249 |
| Pathan Sahebkhan Asifkhan | Samajwadi Party | 2,101 |
| Jadav Ambalal Kanabhai | Janata Dal (United) | 1,382 |
| Pathan Mahemudkhan Razakkhan | Apna Desh Party | 1,109 |
| None of the Above | None of the Above | 18,053 |

Vadodara is divided into 2 Prants
Vadodara

Dabhoi
Vadodara is divided into 8 talukas
Dabhoi

Karjan

Padra

Savli

Sinor

Vadodara City

Vadodara Rural

Waghodia
More detials in links below
https://ceo.gujarat.gov.in/AC_details.aspx