Candidate list for Assembly, Municipal, Panchayat, By(Bye) election India 2016 2017, BJP INC AAP BSP SP CPI(M) NCP Candidate list
Details

Category: Candidate List
Last Updated:

Thursday, 22 January 2015 20:54
AAP set to announce the second list of candidates for General Elections.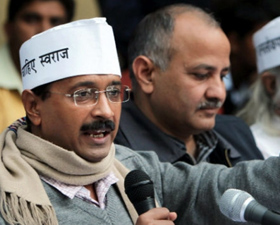 New Delhi: The Aam Aadmi Party is all set to release its second list of 27 candidates for Lok Sabha polls on Friday.  The list may include former Aam Aadmi Party minister Rakhi Birla, singer Rabbi Shergil, Rajesh Yadav, Ilias Izmi, Braj Bhushan Dubey and KP Yadav.
Also Read...First list of AAP candidates
The party had on February 16 released its first list of 20 candidates for the upcoming polls, pitting Kumar Vishwas from Amethi, Rahul Gandhi's seat, and former banker Meera Sanyal and social activist Medha Patkar from Mumbai.

The list, which came two days after AAP leader Arvind Kejriwal quit as Delhi Chief Minister, carries names of candidates from Delhi (2), Uttar Pradesh (7), Maharashtra (6), Haryana, Arunachal Pradesh, Odisha, Madhya Pradesh and Punjab -- one each.
Also Read...Lok Sabha congress Candidate List Lok Sabha election 2014.
TV journalist-turned-politician Ashutosh will contest from Chandni Chowk seat in Delhi held by Union Minister Kapil Sibal. AAP has given ticket to former scribe Mukul Tripathi for Farukhabad seat in Uttar Pradesh, the constituency of another Union Minister Salman Khurshid.

Advocate H.S. Phoolka will contest from Ludhiana, currently held by I and B Minister Manish Tewari, while activist Hardev Singh has been given ticket in Mulayam Singh Yadav's stronghold Mainpuri.

AAP has fielded anti-corruption activist Anjali Damania from Nagpur against former BJP president Nitin Gadkari. Somendra Dhaka, a peasant leader, will contest from Baghpat in Uttar Pradesh, a seat represented by Union Minister and Rashtriya Lok Dal chief Ajit Singh.

Sanyal, former CEO and chairperson of RBS India, will contest from South Mumbai, a seat currently represented by Union Minister Milind Deora. Social worker Patkar has been fielded from North East Mumbai, an NCP seat.

source:Indiatoday