AAP Candidate list for Lok Sabha Elections 2014, AAP 1st List Parliamentary Elections 2014, Aam Admi Party Contesting Candidate List 2014, AAP General Election Candidate List Released 2014
Details

Parent Category: Political News
Last Updated:

Thursday, 22 January 2015 20:54
AAP's first list of Lok Sabha candidates: All you need to know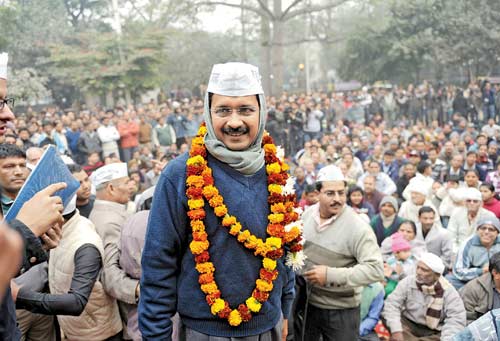 Aam Aadmi Party (AAP) on Sunday released its first list of 20 candidates for Lok Sabha elections, pitting Kumar Vishwas from Amethi, Rahul Gandhi's seat, and former banker Meera Sanyal and social activist Medha Patkar from Mumbai.
The list, which came two days after AAP leader Arvind Kejriwal quit as Delhi Chief Minister, carries names of candidates from Delhi (2), Uttar Pradesh (7), Maharashtra (6), Haryana, Arunachal Pradesh, Odisha, Madhya Pradesh and Punjab -- one each.
AAP has not, however, announced any candidate in Rae Bareli, the pocket borough of Congress president Sonia Gandhi.
TV journalist-turned-politician Ashutosh will contest from Chandni Chowk seat in Delhi held by Union Minister Kapil Sibal.
AAP spokesperson Sanjay SinghAAP has given ticket to former scribe Mukul Tripathi for Farukhabad seat in Uttar Pradesh, the constituency of another Union Minister Salman Khurshid.

Advocate H.S. Phoolka will contest from Ludhiana, currently held by I and B Minister Manish Tewari, while activist Hardev Singh has been given ticket in Mulayam Singh Yadav's stronghold Mainpuri.
AAP has fielded anti-corruption activist Anjali Damania from Nagpur against former BJP president Nitin Gadkari.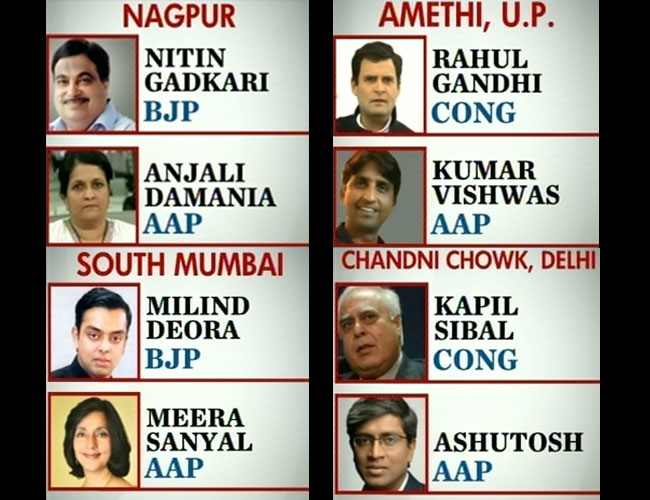 "Our main motto is to send honest people to Parliament. We do not want to send criminals, people with dynastic background. We will soon release the list of candidates for other seats," senior party leader Manish Sisodia told reporters here.

Somendra Dhaka, a peasant leader, will contest from Baghpat in Uttar Pradesh, a seat represented by Union Minister and Rashtriya Lok Dal chief Ajit Singh.
Sanyal, former CEO and chairperson of RBS India, will contest from South Mumbai, a seat currently represented by Union Minister Milind Deora.
Social worker Patkar has been fielded from North East Mumbai, an NCP seat.
Here is AAP list of candidates:
Kumar Vishwas to contest against Rahul Gandhi from Amethi.
Ashutosh to contest against Kapil Sibal from Chandni Chowk.
Mukul Tripathy to contest against Salman Khurshid from Farrukhabad.
Meera Sanyal to contest against Milind Deora from South Mumbai.
Anjali Damania to contest against Nitin Gadkari from Nagpur.
Baba Hardeve to contest against Mulayam SIngh Yadav from Mainpuri.
Subhash Ware to contest against Suresh Kalmadi from Pune.
Khalid Parvez to contest against Mohammad Azharuddin from Moradabad.
HS Phoolka to contest against Manish Tewari from Ludhiana.
Yogendra Yadav to contest against Rao Inderjeet Singh from Gurgaon.
Medha Patkar to contest against Sanjay Dina Patil from Mumbai North East.
Mayank Gandhi to contest against Gurudas Kamat from Mumbai North West.
Vijay Pandhare to contest against Sameer Bhujbal from Nashik.
Jarnail Singh to contest against Mahabal Mishra from West Delhi.
Dr Jia Lal Ram to contest against Dr. Baliram from Lalganj.
Haroon Payang to contest from Arunachal West.
Alok Aggarwal to contest from Khandwa.
Lingraj to contest from Bargarh in Odisha.
Yogesh Dahiya to contest from Saharanpur.
Somendra Dhaka to contest against Ajit Singh from Baghpat.
Source: PTI,indiatoday