Congress to get majority in Assembly polls: Tarun Gogoi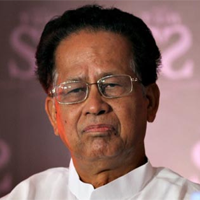 Guwahati: Assam Chief Minister Tarun Gogoi on Thursday claimed that Congress would get majority in the state if Assembly elections are held this year.
"We'll get majority if Assembly elections are held this year as people can see that the BJP has already made an U-turn from all the promises they had made before the Lok Sabha polls this year," Gogoi said during an interaction with reporters here at his residence.
The BJP government had stopped employment and people had realised that they were going back on their poll promises and "even after that if they are going to vote for them, then I don't have anything to say."
Asked about the exact number of seats the Congress was likely to win, the chief minister said, "I am not an astrologer but we'll get majority."
He, however, admitted that the past year was not good politically for the party in the state and the Lok Sabha poll result was a wake-up call for them.
"Besides, the Lok Sabha polls last year had brought development to a halt for nearly three months which affected the state adversely," he said.
The Congress tally in the 2014 Lok Sabha polls had come down to three from seven in 2009 out of the 14 seats. Congress has 78 members in the 126-member Assam Assembly where elections were scheduled to be held in 2016.
src:dnaindia,zeenews