50% chance of Gogoi's removal, says Pradesh Congress Committee chief Bhubaneswar Kalita

---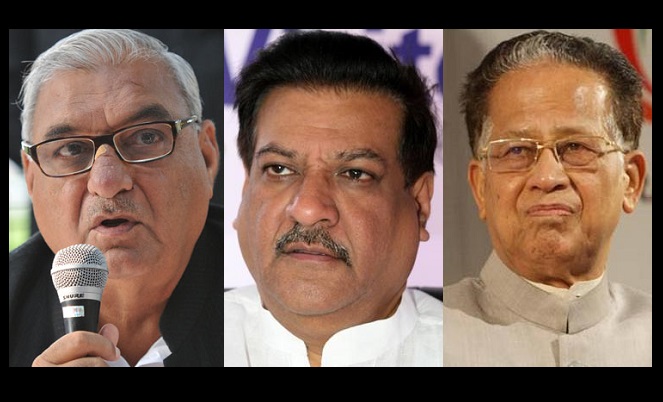 Chief minister Tarun Gogoi on Saturday neither denied nor confirmed reports about an exercise by the AICC to replace him along with chief ministers of two other Congress-ruled states of Maharashtra and Haryana.
However, Pradesh Congress Committee (PCC) president Bhubaneswar Kalita, quoting AICC leaders, said that there is "50:50 chance" of Gogoi's removal." I cannot say about others (Maharashtra and Harayana CMs) when I am not in a position to tell about my fate. This is a matter of the high command and I won't say yes... I won't say no," Gogoi said.

He added that he has been summoned by the AICC for a meeting with Rahul Gandhi in New Delhi on Monday. "I have been told that there will be party MPs and the PCC president at the meeting, that will review our election performance," added Gogoi. Haryana chief minister Bhupinder Singh Hooda and Maharashtra chief minister Prithviraj Chavan held talks with Congress's central leadership in New Delhi on Saturday.
Soon after Gogoi's remarks, Kalita, who returned from New Delhi on Saturday, said, "I have seen in the media about a move to replace (three CMs, including that of Assam's) and when I asked them (AICC leaders), they said the chance is 50:50." State health and education minister Himanta Biswa Sarma, who has been projected by dissidents as Gogoi's replacement, said, "The crisis will be over very soon.
"The dissidents have been demanding Gogoi's ouster for over two years and now mounting pressure on the AICC soon after the party's poor show in the Lok Sabha election, in which it managed to win just three seats. In the 2009 general election, Congress had won seven seats. The dissidents claim they have 45 members among the 78 Congress MLAs and hence, their demand should be heard and addressed by the party leadership.
source:http://timesofindia.indiatimes.com/