World Political news update:Pervez Musharraf flees Pak court to evade arrest.
Islamabad: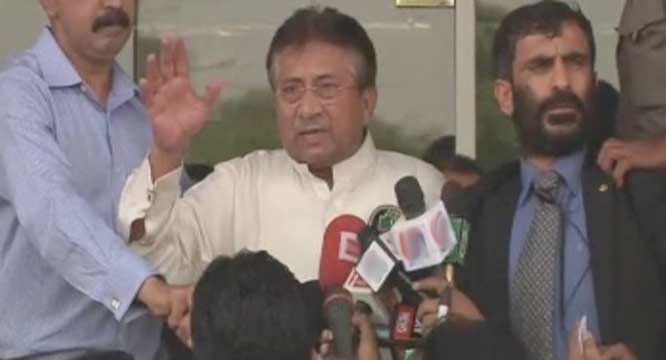 Former Pakistan President Pervez Musharraf on Thursday fled from the Islamabad High Court premises after the court dismissed his bail extension plea and ordered his arrest.
The Islamabad High Court dismissed Musharraf's interim bail extension plea and ordered his arrest in a case related to the confinement of judges in 2007.
Accompanied by his guards, Musharraf had appeared before court to seek an extension in his bail. However, the court dismissed his plea and ordered his arrest.
The former president was immediately whisked away from the Islamabad High Court complex by his bodyguards even before police can arrest him.
In the previous hearing, the high court had extended his interim bail till April 18.

Former military ruler's efforts to seek election to Parliament suffered setback on Tuesday when a tribunal barred him from contesting the May 11 polls from a constituency in the Pakistani capital.
The tribunal comprising High Court judges upheld a Returning Officer's decision to reject Musharraf's nomination papers for a National Assembly constituency in Islamabad.
Musharraf had filed an appeal in the tribunal against the Returning Officer's decision but this was rejected by the judges.
Musharraf had plans to contest polls in four parliamentary seats but his nomination papers were rejected by Returning Officers in Karachi, Kasur and Islamabad.
Though his papers were accepted in Chitral, several lawyers have filed objections against his candidature.
The former dictator has been facing numerous political and legal challenges since he returned to Pakistan last month after nearly four years in self-exile.
Pakistan will go to polls on May 11 to choose new national and provincial assemblies, marking the first democratic transition in the country's 66-year history.
source:http://zeenews.india.com