Monitors fear voter intimidation before Sri Lanka election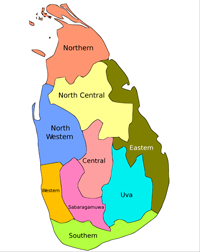 International observers said Sunday they had received complaints of voter intimidation before this week's Sri Lankan presidential election, in which the incumbent faces a tough battle to win an unprecedented third term.
The 55-member panel of monitors told reporters they had already received complaints that the military had set up 400 roadblocks to discourage minority Tamils from voting freely in former war zones.
"According to the opposition these roadblocks are to keep away the voters... (but) we are told (by the authorities) that the military has no role to play in these election," said the monitoring team leader S. Y. Quraishi. "We are yet to see that."
He said international observers would Monday begin fanning out to the 22 electoral districts across the island to check out the final rallies.
They will also be present at polling booths on Thursday during a nine-hour period when some 15 million people are eligible to vote.
"The police have assured us that they will guarantee that the election is free and fair," Quraishi said. "At the moment, we have to take their word."
The monitors have been invited by Sri Lanka's election chief Mahinda Deshapriya, who told them he was confident of conducting a fair election.
Even as they arrived in the island, gunmen opened fire at a meeting of the main opposition candidate Maithripala Sirisena on Saturday night and wounded one person.
On Friday at least 20 supporters of Sirisena were wounded when stones and rocks were thrown as he addressed crowds at Pelmadulla outside the capital.
Private local election monitors have said they received nearly 1,100 complaints since campaigning got underway in early December.
Police said they had received a much smaller number of complaints, but that 130 arrests had been made. The private monitors, the Campaign for Free and Fair Elections, said the increasing violence was well organised and targeted the opposition, which is mounting a serious challenge against two-term incumbent Rajapakse.
Previous elections have been marred by violence, particularly against Tamil and Muslim voters who are the opposition's major support base. Sirisena left his health portfolio and quit Rajapakse's administration in November to become the main opposition candidate.
Local media reports say the two men are currently neck and neck, although Rajapakse was considered the clear front-runner when he called the vote two years ahead of schedule.
The ruling party's vote sank 21 points at a local election in September, suggesting that the president's popularity may be waning five years after he ended a separatist war that had claimed 100,000 lives between 1972 and 2009.
src:dailymail.co.uk