Nawaz Sharif sworn in as PM Pakistan, Nawaz Sharif new PM Pakistan 2013 election, Latest Pakistan Election Update, Pakistan News, Pakistan Election Result, Election Result  Of Pakistan.
Islamabad: Nawaz Sharif on Wednesday got his name etched in Pakistan's history as the first person ever to have sworn-in as Prime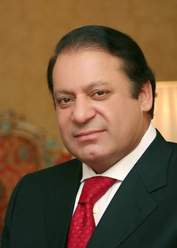 Minister thrice. Sharif took oath as Pakistan's Prime Minister for a record third time today after he was elected with 244 votes in the 342-seat Parliament. Contesting the election against Sharif were Javed Hashmi of the Pakistan Tehrik-e-Insaf and Makhdoom Amin Fahim of the Pakistan People's Party, which led the previous government.
Makhdoom Javed Hashmi received 31 votes while Makdhoom Amin Fahim received a total of 42 votes. Hailing his victory after being elected the PM, Sharif congratulated the electorate for voting in 11 May polls despite threats from militants. "People have made clear that democracy is the only way for Pakistan", said Sharif.
"Doosron kay samne haath failanaey valey kabhi apne pair par khadey nhi ho sakte. (Those who seek from others, can never stand on their own feet). My govt will work towards self- sustainability, added the newly sworn-in PM.
"We accept the challenges before us. I will not hide anything nor make any false promises", said Nawaz.
We won't allow any favoritism, corrupt people will be held accountable, said PM Nawaz Sharif while addressing National Assembly session.
Sharif, who advocates free-market economics, is likely to pursue privatization and deregulation to revive flagging growth. He has said Pakistan should stand on its own two feet but may need to seek a another bailout from the International Monetary Fund to avoid a balance of payments crisis.
The PML-N leader has said he could do business with the IMF, meaning he may be open to reforms like an easing of subsidies and a widening of Pakistan's tiny tax base to secure billions of dollars from the global lender.
"A better-than-expected result for Nawaz could prove to be an albatross around his neck," said Muhammad Malick, a popular current affairs broadcaster.
"With an overwhelming majority of seats and without needing the crutch of coalition partners to form government, he will have fewer excuses for failure on key policy issues such as the economy and terrorism."
In a reminder of the security challenges that Sharif will face, a blast on a bus in the tribal area of North Waziristan killed 19 people on Sunday, security officials said.
Sharif will likely press for negotiation with the Pakistan wing of the Taliban, whose bombing attacks failed to derail the election, but he could run into resistance from the military which has lost thousands of soldiers fighting the insurgency.
Despite Pakistan's history of coups, the army stayed out of politics during the five years of the last government and threw its support behind the election.
However, some fear the military could step back in if there were a repeat of the incompetence and corruption that frustrated many Pakistanis during the last government's rule.
In the end, cricketing hero Khan did not have the momentum needed to trip up Sharif despite his popularity among urban youths, many of whom were voting for the first time.
They had rallied behind Khan's calls for an end to graft and a halt to U.S. drone strikes against suspected militants on Pakistani soil, widely seen as a violation of sovereignty.
In a video message, Khan said the election would boost Pakistan's young democracy, but added his party was collecting evidence of what he said was vote-rigging.
"We are now moving towards democracy. I congratulate the nation on the numbers in which they turned out to vote. The youth was with me. That is my victory," he said.
(Additional reporting by Mehreen Zahra-Malik and Katharine Houreld in ISLAMABAD, Gul Yousafzai in QUETTA, Mubasher Bukhari in LAHORE and Jibran Ahmed in PESHAWAR; Writing by Michael Georgy; Editing by Raju Gopalakrishnan and Jon Hemming)
soource:http://news.yahoo.com