Details

Category: UTs News
Last Updated:

Saturday, 02 April 2016 18:04
TIMES NOW - C VOTER Puducherry opinion Poll 2016, TIMES NOW C VOTER live Puducherry opinion Poll 2016, Pondicherry Latest Opinion Poll, Opinion poll Puducherry assembly elections, Who will win Puducherry elections 2016, Post Alliance Opinion Poll Puducherry Vidhan Sabha, Who is the best CM candidate Puducherry, Puducherry Opinion Exit Poll, TIMES NOW - C VOTER Pondicherry opinion pre Poll survey
Other Imp.Links:-
The opinion polls for Puducherry Assembly Elections 2016 which will be held in May has projected Congress and DMK alliance as the winner of elections with 17 seats. A fresh survey conducted by C-Voter aired on television channel Times Now shows that INC and DMK sharing 32.8 per cent of votes in Puducherry which will be facing elections for 30 seats in May.
The All India NR Congress has slipped from 15 seats to 7 by the C-Voter survey. Also AIADMK will win 1 seat and BJP will won't be able to start an inning in 2016 Assembly Elections.
| | |
| --- | --- |
| Party | Seat Projection |
| Congress+DMK | 17 |
| AINRC | 7 |
| AIADMK | 1 |
| Others | 5 |
| Total | 30 |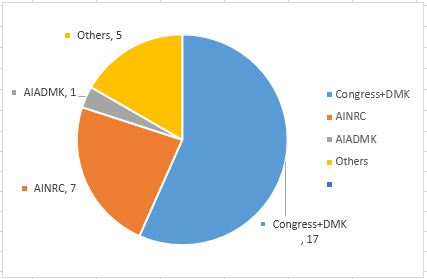 As projected by C-Voters the vote shares of AINRC has reduced from 31.8 per cent in 2011 to 24.8 per cent in 2014. AIADMK's vote share will be reduced to 11.8 per cent from 13.6 per cent. Last month the Elections Commission, an independent body responsible for conducting elections had announced polls in four states and Puducherry a Union Territory.
As expected the tenure of Chief Minister N Rangaswamy, leader of All India NR Congress will come to an end soon. Rangaswamy a senior Congress leader resigned from his party and founded a new political party in 2011. His party party won 15 seats in the 2011 assembly elections within three months of its formation.
In Puducherry, PWF, an alliance formed by CPI(M), CPI, VCK, MDMK and RSP has emerged as an important challenger to Rangaswamy's AINRC. Puducherry is the third most densely populated Union Territory in India where tourism and fisheries are the two primary industries in the region.
The elections in Puducherry for 30 assembly seats will be held on May 16 and the counting of votes will be completed on May 19.