Details

Category: Rajasthan News
Last Updated:

Friday, 24 August 2018 16:24
Poll-bound Rajasthan tops the table in registration of new political outfits in the country


In the past two months, 22 new political parties were registered with the Election Commission, with five of those from Rajasthan. Other poll-bound states of Chhattisgarh and Madhya Pradesh, however, seem to be out of favour with new political outfits with no registrations. Elsewhere, Uttar Pradesh saw four new registrations, followed by Tamil Nadu and Delhi with three each.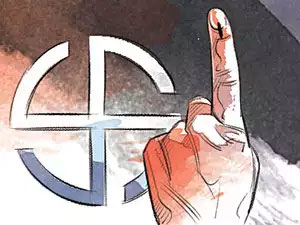 According to data from the Election Commission, one of the new outfits in Rajasthan is the Bharat Vahini Party of Ghanshyam Tiwari, a former BJP leader who formed his own party after falling out with the BJP. The other parties are Panch Party, Abhinav Rajasthan Party, Sarv Shakti Dal and the Bharatiya Jan Satta Dal.


Historically, there has always been a direct contest between the Congress and BJP in Rajasthan. Small parties only play spoilsport in some seats where the BJP and Congress are locked in a close contest. In the 2013 assembly elections, as many as 58 parties contested including 42 that were unrecognised registered parties. The BJP (45.50%) and Congress (33.31%) had shared nearly 79% votes between them, leaving only 21% with the remaining 56 parties.


"Smaller parties don't have much significance. They together can influence 40 seats in the 200-seat assembly. However, they can damage the prospects by eating into the votes of the BJP and Congress," said Raghu Sharma, a Congress MP.
With elections drawing closer, smaller parties like AAP, BSP, INLD, NCP, LJD and SP have intensified their activities in the state. Recently, Sharad Yadav of the LJD visited Rajasthan and hinted at contesting 50 seats in an alliance led by the Congress.


There were two instances in the past when small parties had spoilt the party for both the Congress and BJP, resulting in hung assemblies. In 1993, the two main parties had a tight finish with the BJP bagging 95 seats and the Congress cornering 76. At the time, former vice president of India and BJP stalwart Bhairon Singh Shekhawat formed the government, poaching independents.


In 2008, the Congress faced a similar situation when it ended up with a tally of 96 seats with the BJP getting 78. In that elections, the BSP and Kirori Lal Meena, who had broken away from the BJP, damaged the prospects of both parties. Ashok Gehlot formed the government by engineering a defection among the BSP MLAs and joining hands with Meena.


Political analysts believe that such a situation may arise in the coming elections as well.

"The Congress looks a divided lot. Chief minister Vasundhara Raje (of BJP) looks to gaining ground riding on her Gaurav Yatra. The voting margin may be thin this time between the two parties. Then smaller parties may play a key role in the formation of the government," said Gurwinder Singh, a senior journalist.


Source:indiatimes.com