Details

Category: Rajasthan News
Last Updated:

Thursday, 22 January 2015 20:52
Vasundhara Raje, who spearhead BJP's spectacular comeback to power in Rajasthan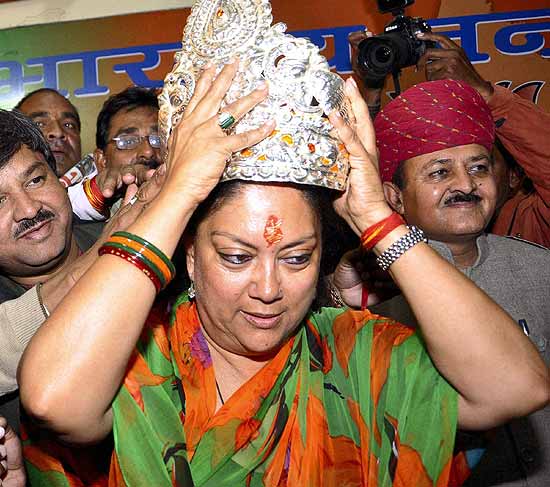 Jaipur: Vasundhara Raje, who spearhead BJP's spectacular comeback to power in Rajasthan, was on Friday sworn-in as Chief Minister at a ceremony in Jaipur in the presence of several senior politicians, including Narendra Modi.
Raje took the oath of office inside the premises of Assembly building at a ceremony, which was attended by BJP's prime ministerial nominee Narendra Modi, party president Rajnath Singh, Madhya Pradesh Chief Minister Shivraj Singh, Chhattisgarh Chief Minister Raman Singh and other senior leaders.According to "Zee News."
According to-"NDTV" -Over 50 thousands visitors are expected to attend the ceremony for which arrangements are being made within the building premises and outside at Janpath, sources said.
Seating arrangements, drinking water facility, parking and security among other arrangements are being made for visitors who will attend the programme at Janpath.
60-year-old Vasundhara Raje, who belongs to the royal Scindia family of Gwalior and married in Rajasthan, has been elected to the state assembly thrice and five times to Lok Sabha.
Ms Raje became Rajasthan's first woman chief minister in 2003 when the "angrezi-speaking maharani", a phrase used by her critics to refer to her elitist and royal background, led BJP to its most famous victory in the predominantly rural state.