Tonk-Sawai Madhopur Parliamentary Constituency 2014, Tonk-Sawai Madhopur Lok sabha Constituency Details, Political News Tonk-Sawai Madhopur , Rajasthan Lok Sabha Elections 2014 News Updates, Rajasthan Parliamentary Constituency details 2014,Tonk-Sawai Madhopur MP Issues: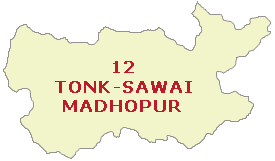 About the Constituency:
The parliamentary constituency of Tonk-Sawai Madhopur is one of the 25 of the state of Rajasthan which was formed post the implementation of the 2008 delimitation of parliamentary constituencies, and has eight Vidhan Sabha segments in Tonk and Sawai Madhopur districts. According to Election Commission of India 2009 data the total electorates in the Tonk-Sawai Madhopur Parliamentary constituency (constituency number 12) were 1,510,047 of which 709,565 are females and 800,482 are males. Two of the segments are reserved for the SC category and one is reserved for the ST category.
Assembly Segments:
Name of Assembly constituencies

Bamanwas (ST)

Deoli Uniara

Gangapur

Khandar (SC)

Malpura

Niwai (SC)

Sawai Madhopur

Tonk
About Tonk- Sawai Madhopur:
The town of Tonk is the administrative centre of Tonk district and is situated at an average elevation of 289 metres. It is located at a distance of 95 kms from the capital of the state. According to the census data of 2011, this district has a population of over 14,21,711 of which 52% are males and 18% under the age of six. The sex ratio here is 949 females per 1,000 males. Tonk has an average literacy rate of 62.46%, with 63% of the males and 43% of the females being literate. 63% of the total population is Hindu followed by 35% of Muslims.
Sawai Madhopur is the administrative headquarters of the Sawai Madhopur District, located in the eastern part of Rajasthan. Home to the Ranthambore National Park, the district has a total population of 13,38,114 and a sex ratio of 897 females per 1,000 males. The average literacy rate is 66% and male and female literacy rates are 81.51% and 47.51%, respectively. Hindi is the official language of both districts.