Eluru Andhra Pradesh Parliamentary Constituency 2019, Eluru Lok Sabha Constituency Details, Political News Eluru, Andhra Pradesh Lok Sabha Elections 2019 News Updates, Andhra Pradesh Parliamentary Constituency details 2019, Eluru MP, Issues Political Analysis 2019: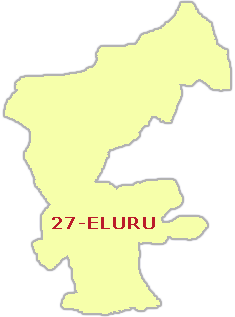 About the Constituency:
Covering a portion of the West Godavari district of Andhra Pradesh is the parliamentary constituency of Eluru. Eluru is one of the 42 Lok Sabha seats which belong to this southern Indian state. The Eluru Lok Sabha Constituency (constituency number 28) consists of 1,275,575 number of electorates in totality, of these 626,309 are males and 649,266 are females as the Election commission of India 2009 data suggests.
Historic and Demographic Background:
The city of Eluru is the administrative centre of power of the West Godavari district. The district of West Godavari came into existence in 1921 when the Krishna and Godavari Districts were divided. With a population of 3,934,782, according to the 2011 Census records, this West Godavari district is considered an urban centre, although most of the district falls in the rural parts of its geographic boundaries. Owing to the rich fertility of the region being fed by the Godavari River, this district is called the 'Granary of India'. Some of the staple crops grown here are cotton, banana, areca nut, corn, tobacco and sugarcane. Besides a rich agrarian economy, a flourishing industrial sector is also developing here, with the presence of companies such as Reliance, ONGC and Cairn, as well as a famous thriving woolen pile carpet industry.
Political Significance
:
This constituency of Eluru has had both the Congress and the Telugu Desam Party as tough contenders for the seat.
Assembly Segments:
Out of the seven legislative assembly segments which constitute this parliamentary constituency, Chintalapudi and Polavaram are reserved for candidates belonging to the marginalised sections of the society.
Names of Assembly Constituencies

Unguturu

Denduluru

Eluru

Polavaram (ST)

Chintalapudi (SC)

Nuzvid

Kaikalur
A look: Sitting MP
| | |
| --- | --- |
| Name of MP | Kavuri Samba Siva Rao |
| Age | 70 |
| Nature of Membership | Elected |
| Term | 18-May-09 to In office |
| Political Party | Indian National Congress |
| Gender | Male |
| Educational Qualification | Graduate |
Performance in the 15TH Lok Sabha:
| | |
| --- | --- |
| Debates participated | 31 |
| Private member bills passed | 0 |
| Questions asked | 152 |
| Attendance | 78% |