Details

Category: MP News
Last Updated:

Thursday, 22 January 2015 20:49
Congress may declare Jyotiraditya Scindia as Madhya Pradesh CM Candidate.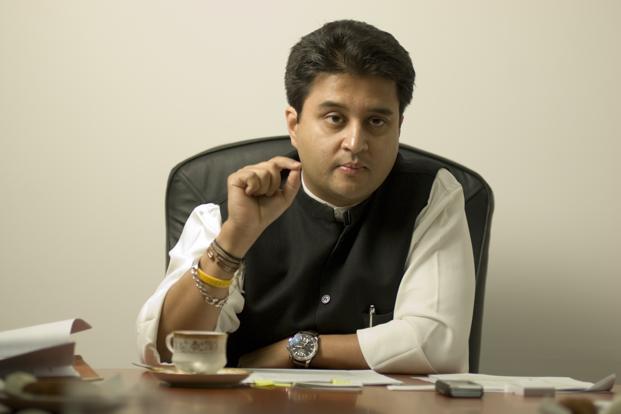 BHOPAL: To counter the BJP's 'brand' Shivraj Singh Chouhan in Madhya Pradesh, the Congress might break its political tradition and announce Union minister of state Jyotiraditya Scindia as the party's chief ministerial candidate at a mammoth rally in Gwalior which is to be addressed by AICC vice-president Rahul Gandhi on October 17.
Rahul Gandhi starts his election campaigning for the upcoming assembly polls in Madhya Pradesh with a rally in Gwalior and another in Shahdol on the same day. His second visit is scheduled for October 24 when he will speak at public meetings in Rahatgarh in Sagar district and Indore.
State Congress leaders argued that there is full probability that Rahul Gandhi will "directly or indirectly" project Jyotiraditya Scindia as the party's official face opposite chief minister Shivraj Singh Chouhan at the Union minister's home turf in Gwalior. The Scindia faction is working relentlessly to bring numbers that could display the Union minister's strength in his domain and can match-up to the ruling BJP's Karikarta Mahakumbh of September 25 which was attended by more than 7 lakh workers of the saffron organizations and addressed by prime ministerial candidate Narendra Modi.
"It is considered unusual for the Congress to declare a chief minister probable before the elections. But it has been done before," a state Congress leader told TOI. "In January 2012, Rahul Gandhi announced Punjab PCC president Amarinder Singh as the party's chief ministerial candidate at an election rally in Ferozepur. Rahul Gandhi had categorically said that Amarinder Singh will become chief minister if the Congress is voted to power. The same might get repeated in Gwalior so that party workers can enter into a direct fight of Chouhan versus Scindia."
Congress leaders explained that Scindia is already the undeclared chief ministerial candidate. "He is being given the longest time to speak at public meetings. When he plans a Jan Aakrosh rally, all senior central leaders are present from AICC general secretary Digvijaya Singh, Union minister for urban development Kamal Nath, Suresh Pachauri, PCC chief Kantilal Bhuria and leader of opposition Ajay Singh. No one refuses what Scindia says at meetings. It is already clear with us that he is the leader and must have been given some assurance but the official announcement will help the party to mobilise party workers and send a message to voters about an alternative to Chouhan," a PCC office-bearer argued.
It is generally believed in the Congress that declaration of a chief ministerial candidate one-month before the polls should be avoided as it could discourage and dishearten workers led by other leaders. "But this time, the party is in a Catch-22 double bind situation. After two electoral routs in Madhya Pradesh, a third defeat could spell disaster for the party. Even rival faction chiefs are worried that if 2013 is another debacle, it would be hard for them to retain their own supporters. While the BJP is telling voters to 'look at Shivraj and vote for the lotus symbol', the Congress can no longer appear to be undecided on its leadership,'' a sitting MLA reasoned.