Modi meets Uddhav Thackeray, Days after being criticised by Shiv Sena, Modi meets Uddhav Thackeray.
Mumbai: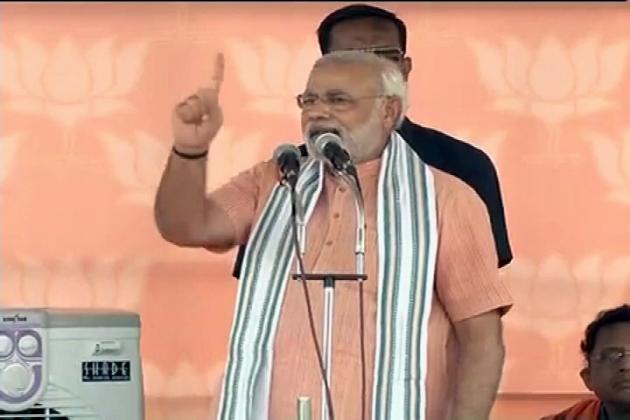 Just days after Shiv Sena party mouthpiece 'Saamna' criticised Narendra Modi, the Gujarat Chief Minister met Sena chief Uddhav Thackeray at his residence Matoshree in Mumbai on Thursday. The meeting is crucial as it comes at a time when the Sena has been critical of Modi and has even questioned the Bharatiya Janata Party's strength.
The Shiv Sena in its party mouthpiece had slammed Modi for claiming that he saved 15,000 Gujaratis in Uttarakhand. The editorial had warned that Modi's saviour act may in fact have adverse publicity and 'boomerang'.
Uddhav Thackeray had later clarified saying that they expected more from Modi since he has been appointed the BJP campaign chief. "We haven't attacked Narendra Modi. But given his new role at the national stage, we have some expectations from him," Uddhav had later said.
This is Modi's first visit to Mumbai after being made the BJP's campaign committee chief for the 2014 Lok Sabha polls.
In fact, the Shiv Sena in its mouthpiece had also raised concerns about state of the BJP-led National Democratic Alliance (NDA). An editorial in Saamna on Monday emphasised senior BJP leader LK Advani's stand that the NDA needs to find "new friends/allies". The edit also urged the BJP to declare its potential new friends.
While making a subtle reference to the divorce between the BJP and the Janata Dal (United), the article said that allies need to be nurtured and "friendships cannot be cultivated by striking at the root of the tree under whose shadow you sit".
Shiv Sena chief Uddhav Thackeray expressed concerns over the manner in which the National Democratic Alliance (NDA) is diminishing. "They not only broke the 17-year old strong alliance, but the workers of the two parties even broke each others' heads in its aftermath. This is not good," said Thackeray.
Referring to senior BJP leader LK Advani's call to the party to get "new friends/allies", Thackeray said friends do not grow on trees to be so easily available.
"Friends have to be nurtured for years with trust and service; they are not like seasonal crops which can be grown with water and fertilizers and then be plucked for use," he pointed out.
However, he described Advani's call as significant as a similar call was made by the late Shyama Prasad Mookerji in 1952 when he attempted to unite all the non-Congress parties in the country.
Thackeray pointed out that though the BJP has made Gujarat Chief Minister Narendra Modi in-charge of campaigning for the 2014 elections, the ground reality is quite different.
"Is the BJP in a position to win the elections on its own strength? Who are its new friends, this must be made clear now," he said.
Thackeray recalled there was a time when the NDA had 20-25 parties in its fold and Advani's home proved too small for its leaders to meet and confabulate. Now, with barely three parties - BJP, Shiv Sena and the Akali Dal - in the nest, even a table and four chairs are sufficient, Thackeray said, explaining the NDA's falling strength.
While BJP president Rajnath Singh has declared that Advani is the top guide and mentor for the NDA, what is Advani's position within the BJP and who will heed his advice, Thackeray wondered.
Hence, it was imperative to treasure old friends and strengthen old friends as it is virtually impossible to mend broken relations, Thackeray observed.