Lok Sabha Elections 2014: Campaigning Ends for 7th Phase Polling, Modi, Sonia in Fray, Lok sabha election 2014, Lok sabha election 7th phase campaign, Narendra Modi, Sonia Gandhi, & Phase Campaign ends, election 2014, 7th phase polling.
Details

Parent Category: Political News
Last Updated:

Thursday, 22 January 2015 20:57
Campaigning Ends for 7th Phase Polling.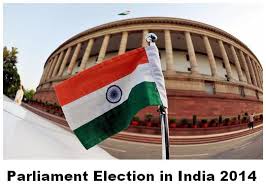 Hectic campaigning for the 30 April scheduled seventh phase Lok Sabha elections in 89 constituencies of seven states and two union territories came to an end on Monday, 28 April. India is holding the general elections in all states and Assembly elections in a few states in nine phases this April and May.
The campaigning marked allegations and counter allegations between parties, mainly Congress and Bharatiya Janata Party (BJP). The stalwarts whose future is going to be decided on Wednesday's polling are: BJP's Prime Ministerial candidate Narendra Modi, Congress president Sonia Gandhi, BJP veterans Rajnath Singh and Murli Manohar Joshi, Union Minister and National Conference leader Farooq Abdullah and Punjab Chief Minister Amarinder Singh.
The states of Andhra Pradesh, Bihar, Gujarat, Jammu and Kashmir, Punjab, Uttar Pradesh, West Bengal, UTs - Dadra and Nagar Haveli and Daman and Diu will go to polls on Wednesday.

Also Read:--- 7th Phase Lok Sabha Elections 2014 LIVE Updates...
In AP's Seemandhra and Telangana, the polls are going to be held in two phases simultaneously for both Lok Sabha and the State Assembly. In Telangana, the polls are to be held on Wednesday for 17 Lok Sabha seats and 119 State Assembly constituencies and in Seemandhra for 25 Lok Sabha seats and 175 Assembly seats on 7 May.

Heavyweights like K Chandrasekhar Rao (KCR) of Telangana Rashtra Samiti (TRS), Jayaprakash Narayan of Lok Satta Party, Vijayashanthi and Jayasudha Kapoor of Congress are contesting the election in Telangana. KCR, Congress Telangana unit president Ponnala Lakshmaiah, the party's central leaders like Jairam Ramesh, Digvijay Singh, Telugu Desam Party president N Chandrababu Naidu, Jana Sena founder and star actor Pawan Kalyan, BJP's Telangana unit president Kishan Reddy campaigned in the area rigorously till the last hour.
In Bihar, where polls are going to be held for seven Lok Sabha constituencies, the authorities have deployed 59,000 central paramilitary personnel, state police and two helicopters to ensure the elections be held in a smooth and peaceful manner.
In Gujarat, the election authorities and police have made 1,86,460 preventive arrests as a precautionary measure before the election. A total of 26 constituencies in the state are going to polls on Wednesday.
source:http://www.ibtimes.co.in/