BJP not seen gaining from Cong loss; regional parties will rule the roost, BJP, Congress, Latest news, latest and political news, political news, breaking news, latest and breaking news.
Details

Parent Category: Political News
Last Updated:

Thursday, 22 January 2015 20:47
BJP not seen gaining from Cong loss; regional parties will rule the roost.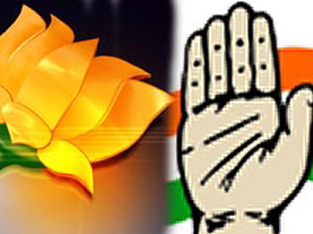 If elections to the Lok Sabha were to be held this month, the Congress-led United Progressive Alliance is likely to lose 122 seats. This is reflected in the India Today-CVoter Mood of the Nation opinion poll.
But, no way does the national dialogue ends there. There are reactions already flowing in from our digital audience. And in this space, the verdict is loud and clear: BJP is not seen gaining from Congress Party's perceived loss as both have disappointed the voter, according to our digital followers.
Says K Vittal Shetty Uppala (http://www.facebook.com/KVSUPPALA): Why BJP is not able to make gains from Congress's loss? Ignoring the poor and appeasing the rich industrialists does not work for any national party. Unless they rectify their focus, they will yield power to regional parties. AAP is just a spoiler not to be taken seriously.
MH Syed adds: This shows that UPA is losing seats but at the same time, NDA is also not benefited. Both the national parties have lost the trust of public. Congress lost it due to reasons of corruptions and the good UPA has done for public, is not getting conveyed. NDA itself is broken due to Modi as he is not accepted to all leaders. People have no options left but to vote for regional parties. It seems that next Govt will be formed by Third front with the outside support of Congress.
But this does not dampen the spirit of the admirers belonging to various camps.
Says S.Vasudevan: In short it is R.I.P (Rest in peace) for Congress. That itself is a good news, leave along NDA occupying power. The Country had enough of Congress (mis)rule for the past 65 years, with economy in a shambles, bad governance, plenty of problems with neighbours, dividing the country on communal basis for vote banks.
Rajeev Samtani adds "It appears that only UPA will manage to organise to form 2014 government but Advani is better option than Modi
There are the compulsive optimists. Says Rajesh Gupta, "Though having 20 parties in UPA and vote share is 28 per cent but NDA having only 03 parties the vote share is 32 per cent. This shows that the popularity of Modi ji is greater than UPA and after 8 months His NDA will get 50 per cent vote share and 275 seats. There will be no need to ask for cheating third front to join NDA."
Satyanarain Vyas (http://www.facebook.com/satyanarayan.vyas.712) wishes and thinks AAP will improve its tally, in course of time.
But Abhishek Yada's airs different concerns "If by any chance, this predictions are true, it will be the first step towards the worst chaos and havoc in the history of India. All regional parties fight for the best interests of their states and forget the country's best interests. Already we see who get the perks in Railway budget (respective minister's own state). It will take the regional nepotism to another level and cause to the collapse of a strong, elegant institution called INDIA!!"
Agrees Kalmadanda Ganesh. "With NDA on upper trajectory, regional satraps know which side of bread is buttered! New coalitions, new masters are in the offing...
But Chintu here has the final advise for the media: Please predict hung assembly more and more so that educated, young, middle, urban class come out to vote due to fear of hung assembly and political uncertainty. Agree Chintu.
source:http://indiatoday.intoday.in