79 panchs and sarpanchs Submit their resignation out of fear in Jammu & Kashmir Goverment, panchs, sarpanchs have quit in J&K: Government,Jammu And Kashmir News,Jammu & Kashmir government to probe sarpanch killing.
SRINAGAR: 25 Feb 2013
J&K government has announced probe into the assassination of a Sarpanch in north Kashmir's Kreeri belt. Javed Ahmad Wani was shot at Sunday evening and was declared brought dead at the SKIMS hospital in Srinagar.
Wani was a secured Panchayati Raj Institution member and had been assigned two security guards. Interestingly both the guards were missing at the time of his assassination, just outside his residence.
Sajad A Kichloo, state's junior home minister who visited the family on Monday with top officials said he has announced an investigation into the assassination. Some police officials of the area including two the two security guards were immediately placed under suspension.
Family sources told police that Wani had some visitors in the evening. These included his deputy as well. They discussed some issue at his residence and later were seen busy in discussions just outside Wani's residence.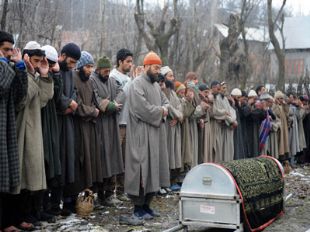 It was apparently at the end of this discussion, part of which was heated, that Wani was shot at. Police have made certain arrest as well. Mostly, these included all the visitors.
No militant outfit has staked the claim for the killing. While police have not ruled out a militant angle, the sleuths are exploring the possibility of some personal animosity might be the factor that led to his murder. There have been a couple of such cases in the past as well in which local irritations and personal animosity led to killing of PRI members. So far, five Sarpanchs were killed in Kashmir as scores of other PRI members survived such attacks.
Officials said Wani figured in high threat perception and was given two personal security officers (PSO) last year. Besides, he was also allotted secured accommodation in Srinagar. However, Wani would stay mostly in his area. Both the cops were found missing when he was attacked on Sunday.The news that Wani was a protected person was broken by none other Chief Minister Omar Abdullah himself.
source:http://economictimes.indiatimes.com