Details

Parent Category: Indian Politics
Category:

Prominent Leaders

Last Updated:

Monday, 20 November 2017 14:29
Nirmala Sitharaman Biography About Age Family Husband Caste Address Mobile Contact Details Education Careeer Profession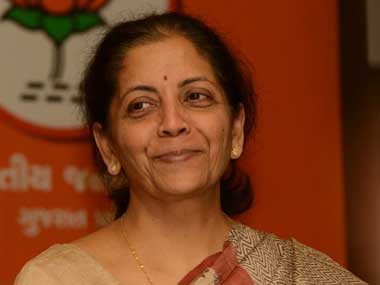 Nirmala Sitharaman is an Indian politician currently serving as the Defence Minister of India.She is also a member of the Rajya Sabha for Karnataka.
Nirmala Seetharaman is the second lady after Indira Gandhi to serve as Indian Defence Minister.
Sitharaman has formerly served as the Minister of State for Finance and Corporate Affairs under the Ministry of Finance and the Minister for Commerce and Industry with independent charge. Prior to that she has served as a national spokesperson for the Bharatiya Janata Party.
Nirmala Sitharaman Education Details Profession Career

| | |
| --- | --- |
| | |
| Born | (1959-08-18) 18 August 1959 (age 58) |
| | Madurai, Madras State, India |
| Political party | Bharatiya Janata Party |
| Spouse(s) | Parakala Prabhakar |
| Children | 1 |
| Residence | Hyderabad, Telangana, India |
| Alma mater | Seethalakshmi Ramaswamy College, Tiruchirapalli |
| | Jawaharlal Nehru University |
Nirmala Sitharaman Family Husband Address Mobile Contact Details
Find Details about Nirmala Sitharaman ji's family details, her Address Contact details. She is a post graduate and is currently serving as Finance minister of India.
| | |
| --- | --- |
| | Karnataka |
| Name | Nirmala Sitharaman |
| Party | BJP |
| S/O,D/O,W/O | Dr. Parakala Prabhakar |
| Age | 56 |
| Address | Plot No.M-6, Green Lands, Manchirevula Village, Rajendra Nagar Mandal, Ranga Reddy Dist.500089- Telangana |
| Self Profession | Politician |
| Spouse Profession | Business |
| Criminal Cases | 0 |
| Education | Post Graduate |
| Total Asset | Rs:2,74,95,222 |
| Liablities | Rs:1,04,27,982 |
| Email | This email address is being protected from spambots. You need JavaScript enabled to view it. |
| Contact | 9910020595 |
Nirmala Sitharaman

Personal Life Details

Nirmala was born in Madurai, Tamil Nadu to Father Narayanan and Mother Savitri. Her father, Narayanan Sitaraman, hailed from Musiri, Tiruchirappalli district in Tamil Nadu. Her mother's family had its roots in Thiruvenkadu and Salem district. Her father was an employee of Indian Railways and hence she spent her childhood in various parts of the state. She was schooled in Madras and Tiruchirappalli.[9] She obtained a BA in economics at the Seethalakshmi Ramaswamy College in Tiruchirapalli. And her Master's degree in Economics from Jawaharlal Nehru University, Delhi.
She met her husband Parakala Prabhakar, from Narsapuram Andhra Pradesh, while studying in the Jawaharlal Nehru University. While Nirmala leaned towards the BJP, her husband was from a pro-Congress family. He is currently a communications advisor to the Andhra Pradesh Chief Minister, Chandrababu Naidu
Nirmala Sitharaman

Professional Political Life Details

Nirmala Sitharaman joined the BJP in 2008 and has served as a spokesperson for the party. In 2014, she was inducted in Narendra Modi's cabinet as a junior minister.
In May 2016, she was one of the 12 candidates nominated by the BJP to contest the Rajya Sabha elections due on 11 June 2016. She successfully contested her seat from Karnataka. On 3 September 2017 she was sworn in as second female Defence Minister of India and first full time defence minister of India
Nirmala Sitharaman

Non Political Life Details

Outside the political sphere, Sitharaman has served as an assistant to Economist in the Agricultural Engineers Association in the UK. During her stay in the UK, she has also served as a Senior Manager (R&D) for Price Waterhouse and briefly at the BBC World Service. She has also served as a member of the National Commission for Women. As of 2017, she is one of the founding directors of Pranava school in Hyderabad
Nirmala Sitharaman

Facts

Sitharaman graduated from Seethalakshmi Ramasamy College, Tiruchirappalli and went on to join the Jawaharlal Nehru University in Delhi from where she completed her masters in Economics.
She completed her PhD on Indo-European textile trade.
She is one of the founding directors of Pranava, a school in Hyderabad.
She joined BJP in 2008 and in 2010 was made a BJP spokesperson.
Nirmala Sitharaman

Family Husband Details

Husband of Nirmala Sitharaman is Dr. Parakala Prabhakar. He was born in Narsapuram, presently he is Communications Advisor, holds a cabinet rank position in Andhra Pradesh Government. He is a well-known public personality in Andhra Pradesh, for several years he was political commentator, presented a current affairs discussion programme on television channels from Andhra Pradesh and also former spokesman and former general secretary of Praja Rajyam Party. In the early 2000s, Dr Prabhakar was the spokesperson of the Andhra Pradesh unit of the BJP. He actively participated in Samaikyandhra Movement, also founder-secretary of Visalandhra Mahasabha
| | |
| --- | --- |
| | పరకాల ప్రభాకర్ |
| Born | (1959-01-02) 2 January 1959 (age 58) |
| | Narsapuram, Andhra Pradesh |
| Nationality | Indian |
| Education | Ph.D |
| Alma mater | London School of Economics, |
| | JNU |
| Occupation | Communications Advisor in Andhra Pradesh Government |
| Known for | Political commentator |
| Spouse(s) | Nirmala Sitharaman |
| Children | 1 |
| Parent(s) | Parakala Seshavatharam, Ex Minister |
| | Parakala Kalikamba, Ex MLA |
Nirmala Sitharaman

Family Daughter Details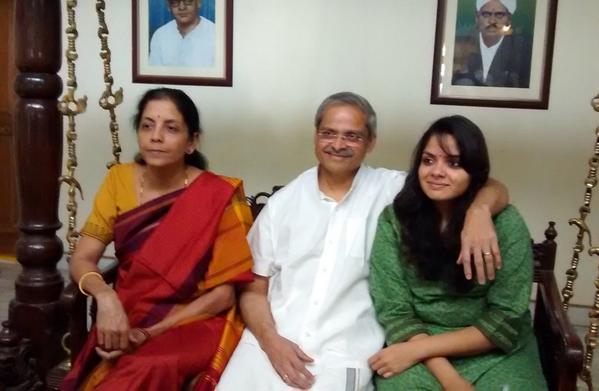 Parakala married Nirmala Sitaraman in 1986 and has one daughter. His mother was a Congress MLA in Andhra Pradesh, while his father, Parakala Seshavatharam, was a Minister in the Andhra Pradesh Congress Govt in the 1970s. He studied in London School of Economics. He did his Master's Degree and M.Phil from Jawaharlal Nehru University (JNU), New Delhi
She was