Details

Parent Category: Indian Politics
Category:

Prominent Leaders

Last Updated:

Wednesday, 02 November 2016 16:28
Vijendra Gupta Biography Family Address contact Website Professional career, Vijendra Gupta, Who is Vijendra Gupta, Know about Vijendra Gupta BJP, Vijendra Gupta political Career, position held by Vijendra Gupta, Vijendra Gupta Assets Criminal records liabilities Achievements Awards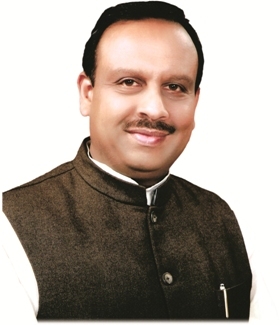 Vijender Gupta is an Indian politician from Delhi capital of India. He is currently a Member of Legislative Assembly from Rohini constituency and also a member of BJP's National Executive. In Delhi state elections 2015, he was one of the three BJP candidates to pull a win. He was president of Delhi state unit of Bharatiya Janata Party.
Personal Life:
Shri Vijender Gupta belongs to a well-educated family. Shri Vijendra Gupta, a post graduate from the prestigious Shri Ram College of Commerce (SRCC), Delhi University, has left indelible imprints in the realms of education, healthcare, housing, civic amenities, environment protection and security of senior citizens, among others. Vijender married Dr. Shobha Vijender on 1 November 1987. She is currently MCD Councillor, Ward No. 50 and has served as member on the Bench of Magistrate Child Welfare Committee (under JJ Act 2000) and is the founder president of an NGO Sampurna. They have a daughter and a son.
Constituency

Rohini


State

Delhi

DOB

14/08/1963


Political Party

BJP

Religion

Hindu

Spouse

Dr. Shobha Vijender

Children

1son 1 daughter

Educational Qualification

Post Graduate (SRCC)

Profession before joining politics

Political and Social Leader

Achievenment

Responsible Citizen of society

Councillor

Standing Committee Chairman [MCD]

President, Delhi BJP
Political Career:
Shri Vijender Gupta began his political career as a student leader. In 1984 he was elected as the Vice President of theDelhi University Students Union (DUSU).Vijender Gupta was Chairman of Standing Committee MCD from 2007 to 2009. His credibility as an able administrator established as he was elected Chairman of the Standing Committee MCD from 2007 to 2010 and created milestones in governance, pioneering e-governance in the MCD functioning to enhance accountability and transparency of the systems in place.
He has been elected thrice in the Municipal elections from Rohini that too with the highest margin in Delhi.
He served as a Secretary and Joint Convener, Janta Vidyarthi Morcha, Delhi Pradesh from 1980-84. He was Vice President, Delhi University Student Union, 1984-85. From 1995- 1997, he was PresidentBhartiya Janta Yuva Morcha, Keshav Puram Distt. He has been elected Councilor, MCD ( Ward no. 33 Rohini Zone) in 1997 with victory margin of more than 10 thousand votes. Elected Councilor, MCD 2nd time, in 2002 by a margin of 12 thousand votes.
As President, Delhi BJP from 2010-2013, he has always been vocal about the rampant misrule of Sheila Dikshit Government. He embarked upon 15 day long Jan Sangharsh Yatra against spiralling price hike, corruption and crimes against women, undertook people's fight to every nook and corner of Delhi. His efforts led to indictment of Sheila Dikshit by the Lokayukta on misuse of public funds for her own political campaign and misuse of power. Under his leadership the BJP won by 3-0 in all the three municipal corporations of Delhi in 2012.
He has shown astute organisational capabilities as he convened the Shri Narendra Modi's mega rally on 29 September 2013 in Rohini. Shri Vijender Gupta has also foughtLok Sabhaelection from Chandni Chowk in 2009.
Positions held by Vijender Gupta:
Secretary, Janta Vidyarthi Morcha, Delhi Pradesh (1980-83)

Joint Convener, Janta Vidyarthi Morcha Delhi Pradesh (1983-84)

President Bhartiya Janta Yuva Morcha, Keshav Puram Distt (1995 - 1997)

General Secretary, BJP Mandal Pitampura (1990-93)

Chairman, Law & General Purpose Committee, MCD (1997-1998)

Councilor of MCD since 1997

Member Standing Committee (1998-2000)

Zonal Chairman, Rohini Zone,2000-2001.

Deputy Chairman, High Powered House Tax Committee (2001-2002)

Leader of the Standing Committee MCD (2002-07)

Secretary, BJP Delhi State since 2002

Chairman of the Standing Committee MCD since 2007
As a member of Municipal Corporation of Delhi, Rohini, he successfully liberated the residents of Rohini from the fear of the mafia that controlled the car parks. He also undertook various socio-economic initiatives, which include the construction of:
Panchkarma hospital

Modern MCD swimming pool

6-lane Bridge

New schools

Railway reservation counter

10 community centres

Library

Hostel for women

Auditorium and cultural centre