Details

Parent Category: Indian Politics
Category:

Prominent Leaders

Last Updated:

Thursday, 20 October 2016 13:18
Jagdish Mukhi Biography Family Address Contact Website Professional Career, Who is Jagdish Mukhi, Know about Jagdish Mukhi, BJP Delhi Jagdish Mukhi Biography, Jagdish Mukhi political Career ,position held by Jagdish Mukhi , Jagdish Mukhi Achievements Awards Assets Education Criminal Cases Liabilities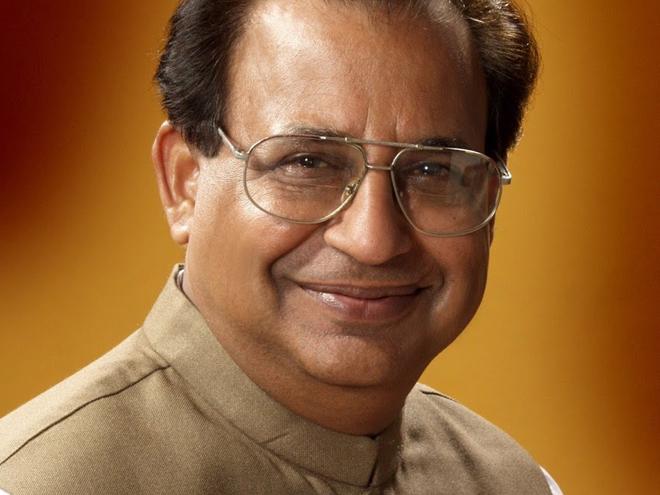 Jagdish Mukhi (born 1 December 1942) is the leader of the opposition in Delhi state legislative assembly in India. He is a leader of Bharatiya Janata Party. He was born in 1942 in Dajal, Dera Gazi Khan. Mukhi is a former minister of Finance, Planning, Excise and Taxation and Higher Education in the Delhi government. He is a member of BJP and RSS. He has been teaching as reader in Shaheed Bhagat Singh College, Delhi University.
His Contribution:
He Played vital role in banning lottery in Delhi and later on in India in year 1994 (as minister of finance). He has strong opinion for lowering alcohol consumption by the citizens of India to curve the consumption as well as to take care of the sentiments of religious organizations, He declared number of dry days in a year (as Minister of Excise). He launched Guru Gobind Singh Indraprastha University in the record time of 8 months (as Minister of Higher Education). He was awarded as best planning minister of the nation by the then Union planning minister Shri Pranab Mukherjee.
| | |
| --- | --- |
| Constituency | Janak Puri |
| State | Delhi |
| DOB | 1/12/1942 (Dajal,Distt.-Dera Gazi Khan,Punjab (now in Pakistan) |
| Political Party | BJP |
| Religion | Hindu |
| Spouse | Prem Mukhi |
| Children | 1 son, 1 daughter |
| Educational Qualification | M.com, Ph.d |
| Profession before joining politics | Business |
| Spouse Name | Prem Mukhi |
| Children | 1 son, 1 daughter |
| Important positions held | Leader of Opposition in Delhi Assembly 1998~2008 ; Finance-Higher Education-Planning Minister in Delhi Govt 1993~1998 ; Retd. from Delhi University in year 2005 from Commerce Deptt. of Shaheed Bhagat Singh College,Sheikh Sarai,New Delhi |
| Achievements | Awarded as Best Finance & Planning Minister by the then Planning Minister Sh.Pranab Mukherjee in year 1997 & Awarded as Best MLA by the then Lok Sabha Speaker Sh.Manohar Joshi in year 2002 |
Political Career:
Two times he was awarded with best MLA award in Delhi Vidhan Sabha. He is representing Janak Puri constituency continuously from 1980 and has won seven continuous Vidhan Sabha elections from the same constituency. He has worked at all levels in the BJP & given the best performance as President, BJP Mandal Janak Puri; General Secretary, BJP West District; President, BJP West District; General Secretary, BJP Delhi; Prabhari, BJP affairs Jammu & Kashmir; Prabhari BJP affairs Haryana. His performance was best appreciated in Loksabha & Vidhan sabha elections of Haryana where BJP has got results to the best ever performance and first time in Haryana BJP chief minister without any support has taken the oath.
Personal Life:
Jagdish Mukhi's wife Smt.Prem Mukhi is actively involved in social development works for women empowerment under the banner of Mahila Jagriti Sangh. He is blessed with a son Atul(BE,MBA) married to Parul(MBA) & daughter Latika married to Suresh.
Awards:
Prof Mukhi started out as a trainee officer in RBI in 1967. After a year of training, he started teaching at Bhagat Singh College in 1969. In 1988 he entered politics and found his calling in life. He has served as finance minister during BJP's tenure. He received an award for being the best MLA in 1998-2003.
Life's Time Line:
| | | |
| --- | --- | --- |
| 2016 | Aug | Appointed as the 12th Lieutenant Governor of the union territory of Andaman and Nicobar Islands. |
| 2013 | May | Appointed as Incharge,BJP Affairs for Haryana State by Hon'ble BJP President-Sh. Rajnath Singh ji & Smt. Sushma Swaraj ji |
| 2013 | Apr | Appointed as National Secretary,BJP Disciplinary Committee by Hon'ble President-Sh. Rajnath Singh ji |
| 2011 | Nov | Visited US & Canada |
| 2011 | Sep | Apponted as Co-Convenor of Good Governance Cell by Hon'ble BJP President-Sh. Nitin Gadkari ji |
| 2011 | Sep | Appointed as Incharge,BJP Affairs for J & K State by Hon'ble BJP President-Sh. Nitin Gadkari ji |
| 2010 | Jun | Visited Sri Lanka on religious tour to visit Ashok Vatika and Anjani Ayyar Temple e.t.c. |
| 2009 | | Member of Delegation in the meeting of Common Wealth Countries at Malaysia and decided to include Archery and Lawn Tennis in the CWG |
| 2009 | May | Contested Lok Sabha Elections from West Delhi Constituency Delhi |
| 2008 | Dec | Elected 6th time as MLA from Janak Puri Constituency |
| 2006 | Mar | Part of the team to bring Queen's Baton from Melborne, Australia for Common Wealth Games,New Delhi,India |
| 2003 | Dec | Elected 5th time as MLA from Janak Puri Constituency |
| 2003 | Dec | Re-elected as Leader of BJP Vidhayak Dal and appointed as Leader of opposition in Delhi Vidhan Sabha |
| 2003 | Jun | Awarded as Best MLA & Leader of Opposition by the Speaker-Lok Sabha-Sh. Manohar Joshi |
| 2002 | | Elected as President for Delhi Archery Association and Treasurer for Archery Association of India |
| 2002 | Aug | Led Indian Archery Team to Praha,Czech Republic in World Championship |
| 2000 | Apr | Blessed with Grand Daughter-Aadya by son Atul Mukhi |
| 1998 | Dec | Elected as Leader of BJP Vidhayak Dal and appointed as Leader of opposition in Delhi Vidhan Sabha |
| 1998 | Dec | Became Member of National Executive,BJP and continuing till date |
| 1998 | Dec | Elected 4th time as MLA from Janak Puri Constituency |
| 1998 | May | Blessed with Grand son-Dhruv & Grand daughter-Dwiti(twins), by Daughter-Latika |
| 1998 | Mar | Blessed with Grandson-Amogh by son Atul Mukhi |
| 1998 | Jul | Reappointed as Finance,Planning,Higher Education Minister by Hon'ble CM,Smt. Sushma Swaraj |
| 1997 | | Daughter-Latika Passed out B.Ed |
| 1997 | May | Atul got married with Parul |
| 1997 | Apr | Son-Atul Passed out MBA |
| 1997 | Mar | Visited Japan, Singapore,Bangkok,Korea for study of Metro Rail System |
| 1996 | Sep | Reappointed as Finance,Planning,Higher Education Minister by Hon'ble CM,Sh. Sahib Singh Verma ji |
| 1996 | | Daughter- Latika Passed out M.com |
| 1995 | Oct | Awarded P.hd in Finance from Kurukshetra University |
| 1995 | Jan | Visited U.K., Spain,Germany for study of VAT system for India as member of committee of Finance ministers appointed by the than Finance Minister Dr.Manmohan Singh |
| 1994 | May | Daughter Latika got married to Suresh |
| 1994 | | Daughter Latika passed out B.com |
| 1993 | Dec | Appointed as Finance,Planning,Higher Education Minister by Hon'ble CM,Sh. Madan Lal Khurana ji |
| 1993 | Nov | Elected 3rd time MLA from Jank Puri in newly constituted Delhi Vidhan Sabha |
| 1993 | Jun | Appointed as General Secretary-BJP,Delhi Pradesh |
| 1992 | Aug | Son-Atul awarded degree in Mechanical Engineering |
| 1991 | Jun | Appointed as Secretary,BJP,Delhi Pradesh |
| 1989 | May | Elected as President,BJP West District Delhi |
| 1987 | May | Elected as President,BJP West District Delhi |
| 1985 | | Appointed as Secretary, BJP West District Delhi |
| 1984 | Oct | Visited Singapore |
| 1983 | Apr | Appointed as Chairman,Assurance Committee in Metropolitan Council Delhi |
| 1983 | Feb | Elected 2nd time as Member of Metropolitan Council Delhi |
| 1980 | Jan | Elected as Member of Metropolitan Council Delhi (in by-election) |
| 1977 | Sep | Appointed as General Secretary of Janta Party, Janak Puri Mandal |
| 1975 | Jun | Worked hard with RSS to campaign against the imposition of Emergency in the country by Mrs. Indira Gandhi, the then Prime Minister of India and helped the victims of Emergency |
| 1975 | | Blessed with a Daughter-Latika |
| 1974 | | Incharge-Pradhyapak Milan-an organization of RSS Delhi |
| 1973 | Jan | Shifted to Janak Puri |
| 1972 | Nov | Written a book on company Law and Secretarial Practice |
| 1971 | Aug | Blessed with a son-Atul |
| 1970 | Oct | Married to Prem Grover from Rewari, Haryana |
| 1969 | Nov | Actively worked for DUTA alongwith Sh. O.P. Kohli ji till the imposition of Emergency in 1975 |
| 1969 | Jul | Lived at Kalkaji,New Delhi from July 1969 to Dec 1972 |
| 1968 | | Joined as Lecturer at KLP college,Rewari,Haryana |
| 1967 | | Joined Reserve Bank of India,New Delhi |
| 1967 | | Passed M.Com from Sriram College,Delhi University |
| 1965 | | Passed B.Com from Raj Rishi College, Alwar |
| 1964 | | Appointed as Alwar District RSS Karyawaha Sayam |
| 1963 | Sep | Elected as President of students union of Raj Rishi College, Alwar as ABVP candidate |
| 1961 | | Passed Pre-university from Raj Rishi College-Alwar |
| 1960 | | Ist year OTC of RSS from Salwan Public School,Delhi |
| 1960 | Apr | Passed Matric fromm Government School,Sohna (Distt.-Gurgaon),Haryana |
| 1958 | | ITC of RSS from Hindu School,Panipat |
| 1947 | Aug | Migrated from Pakistan to Village Sohna,Distt.-Gurgaon |
| 1942 | Dec | Born at Dajal,Distt.-Dera Gazi Khan,Punjab,India (Now in Pakistan) |
| | | Father-Late Sh. Jesa Ram Mukhi ji |
| | | Mother-Late Smt. Laxi Devi Mukhi ji |