Mayawati to hold 14 election rallies in Delhi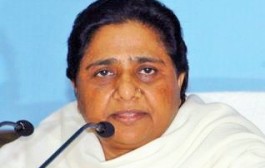 Lucknow, (IANS) Bahujan Samaj Party (BSP) chief Mayawati would be addressing 14 election rallies in poll-bound Delhi, a party leader said Monday.
Having lost the recently concluded state assembly elections in Maharashtra and Haryana, and being reduced to zero in the Lok Sabha poll last year, the Dalit leader is taking the Delhi state assembly election very seriously, a close aide told IANS.
Mayawati finalised her campaign plan for Delhi late Sunday and told party leaders in the union capital to organise two rallies each in seven parliamentary constituencies of Delhi.
This is for the first time that the BSP chief is holding so many rallies in the union capital. BSP has fielded candidates for all of the 70 seats in Delhi and is attempting to make inroads in the Dalit colonies. The BSP supremo has assigned party leaders from Uttar Pradesh to ensure better voter mobilization.
The venues for the 14 rallies would be decided by Tuesday, party leaders said. Delhi goes to polls Feb 7 and votes would be counted Feb 10.