BJP leader Naqvi held guilty for poll code violation, gets bail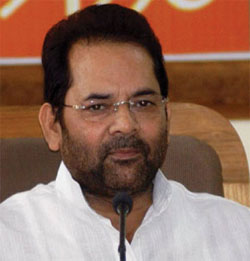 Lucknow/New Delhi, (IANS) BJP leader and union minister Mukhtar Abbas Naqvi Wednesday got bail after a court sentenced him to a year in prison for violating the model code of conduct during the 2009 elections.


The chief judicial magistrate in Lucknow ordered the detention of the minister of state for minority affairs and parliamentary affairs but later released him on a personal bond of Rs.20,000.

The Bharatiya Janata Party said the case against Naqvi was registered by the then Uttar Pradesh government out of "political vendetta" and there was no need for the minister to resign.

The verdict came in a case related to a protest reportedly led by the BJP leader in 2009 at Rampur in Uttar Pradesh. Naqvi, who was in Rampur Wednesday, denied he was present at the 2009 protest and said he will appeal in a higher court.

Police had registered a case against Naqvi and 200 other people. BJP spokesperson Bizay Sonkar Shastri said the case filed against Naqvi was an example of political vendetta by the then state government.

"Protests and sit-ins keep taking place. Which leader does not take part in them. A leader lends voice to various sections of people. The state government has misused the administration (in filing the case). Such behaviour by the state government has hurt democracy," Shastri told IANS.

He said the BJP was solidly behind Naqvi, and alleged that the Samajwadi Party government in Uttar Pradesh had pursued the case due to "political vendetta". "I think there is no need (for Naqvi) to resign. The issue concerns a protest," he said.