Samajwadi Party candidates file nominations for UP Legislative Council polls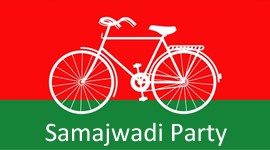 Lucknow, (IANS) Eight candidates of the ruling Samajwadi Party (SP) Monday filed their nomination papers for the Jan 23 legislative council polls for 12 seats.

The contestants - Ashok Bajpayi, Virendra Singh, Sarojini Agarwal, Ashu Malik, Ahmad Hasan, Ramesh Yadav, Ram Jatan Rajhbhar and Sahab Singh Saini - filed their papers with the returning officer in the presence of Chief Minister Akhilesh Yadav, cabinet ministers Shivpal Singh Yadav and Ambika Chowdhary.


Party candidate and health minister Ahmad Hasan said the Congress Legislature Party was with them and all of their eight candidates will sail through comfortably and there would be no need for elections.

The Bahujan Samaj Party (BSP) has fielded former minister Naseemuddin Siddiqui, Dharamveer and Pradip.

The Bharatiya Janata Party (BJP) has named Laxman Acharya, a leader from Varanasi, Prime Minister Narendra Modi's parliamentary constituency for the polls.

Additional Chief Election Officer Ramakant Pandey said Jan 13 was the last day of nomination for the 12 seats that will fall vacant Jan 30. In case the need arises, polls will be held Jan 23. Of the 12 seats falling vacant, seven were held by the BSP, three by the SP and two by the BJP.