Political parties attack BJP over mass conversions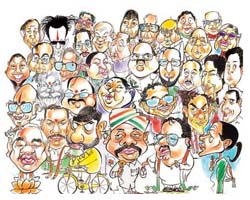 New Delhi, (IANS) The mass conversion of Muslims to Hinduism in Uttar Pradesh's Agra district triggered angry reactions from several political parties, which attacked the BJP-led central government Wednesday.
Congress vice-president Rahul Gandhi said the BJP was not bothered about the "bloodshed" and its sole aim was to come to power.
"Their sole interest is come to power in the country. They are ready to use anything to come to power," Gandhi said in an apparent reference to the BJP.
"It doesn't matter to them if people of different religion fight; it does matter to them if there is bloodshed," he added, while speaking in Thiruvananthapuram in Kerala.
Nearly 300 members of some 60 Muslim families living in a slum on Agra's outskirts reportedly embraced Hinduism Monday. The Bajrang Dal said it had organised the event.
Azam Khan, a senior leader from the ruling Samjawadi Party in Uttar Pradesh, accused the Bharaitya Janata Party of "vitiating the atmosphere in the state".
"The BJP and the RSS have no issue. The government has failed on various fronts. Neither could they create jobs, not bring black money stashed abroad. They want to create tension," he added.
CPI leader D. Raja said: "Forcible conversions are a violation of constitution. The government should take this into serious consideration." The issue rocked Rajya Sabha as well.