Chief Minister Akhilesh Yadav accuses the media of highlighting rape case only in UP
---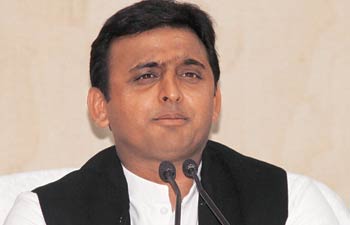 On the back foot for nationwide criticism for Badaun rape case and deteriorating law and order in the state, chief minister Akhilesh Yadav on Tuesday accused media of highlighting cases occurring only in UP while ignoring those in other states.
"I have said this several times that incidents of the state are publicised more. Such incidents do not happen in UP alone," Akhilesh said,

reiterating that his government had done everything required in Badaun rape case.

Akhilesh said,

"An incident happened in Bangalore, was it shown on national channels? Incidents are taking place in Madhya Pradesh. I have got information that chain of a member of a big minister was snatched near her home. Rajasthan is before you. Only UP is visible and this is more visible to cunning people."
img src: IBNlive
Launching a counter attack on BJP agitating on the issue of power crisis,

Akhilesh said

the rival party has government at the Centre, but it was neither giving UP power of its full quota nor was it providing coal to operate plants.
"These BJP people are cunning and recently sat on dharna,"

he alleged adding

"Their people met me and I accepted their proposal. They said about system improvement, I accepted. I told them ask the Centre to increase our quota and provide coal. Taking to the streets and staging a demonstration has no meaning.
source:TOI,IBNlive