I believe in the strength of the people of Uttar Pradesh:Modi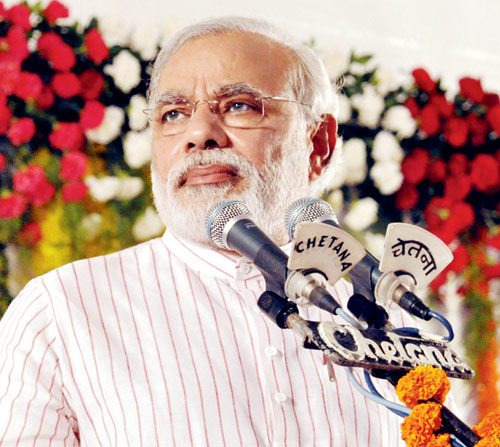 3.18 pm Congress free India is the guarantee against poverty, unemployment - Modi
3.15 pm: The BJP promises that it will live up to the aspirations of the youth of the country – Modi
3.07 pm: Congress leaders say we are thieves. Yes, we are thieves, we have stolen the sleep of the Congress - Modi
3.03 pm Selling tea better than selling the country - Modi
3.00 pm: They (Congress) hate poor, one UPA leader calls me Chai Bechne Wala, is it crime to sell tea to earn a living? Modi
2.52 pm: Congress remembers the poor only during polls. If they had any pain for the poor, that too after a family being in power for 45 years, then the poor would not have in the condition they are in the country.
2.51 pm: I believe in the strength of the people of Uttar Pradesh. Ram Rajya was created in this land only - Modi
2.51 pm: For us UP is not a political playgrounds but it is the most important land for India's development
Earlier in the day, Narendra Modi, on arrival in the temple city, first offered prayers at Sankatmochan temple and then at Kashi Vishwanath temple and later proceeded on a chopper to Raja Talab grounds for the Vijay Shankhnad rally.
The BJP has high hopes from the rally as a good showing in Kashi region, comprising of 14 Lok Sabha seats is crucial cog, in its plan to win big in Uttar Pradesh which has a total of 80 Lok Sabha seats.
Of the total 19 seats in eastern UP, the BJP had managed to only two seats in 2009.
Besides Narendra Modi, BJP president Rajnath Singh, Varanasi MP Dr Murli Manohar Joshi, state BJP president Laxmikant Vajpayee, former chief minister Kalyan Singh, Kalraj Mishra were among the others who addressed the mega rally.
Addressing the rally, Rajnath Singh said the whole country wants to see Narendra Modi as the prime minister of India. "No one can stop Narendra Modi from becoming the prime minister of the country," he said.
"I have seen many rallies in Benaras but nothing like this," Singh said.
The BJP president said that India, even after 66 years of independence, could not become a global superpower because of the faulty policies of the Congress.
On the attempts by the Congress to take credit for the Lokpal Bill, Singh said, "If there is anyone who deserves credit for Lokpal Bill it is Shri Anna Hazare."
Dr Murli Manohar Joshi also addressed the gathering. Hitting out at the UPA government for its response on the diplomatic row with the US over the detention of Devyani Khobragade, he said, "After Narendra Bhai forms the government, no country in the world will be able to dare India. His leadership is needed for India's pride".Sources-"Zee News"