CBI gives Mulayam clean chit, says not enough proof.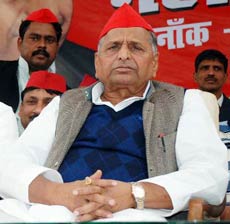 The CBI Friday gave a clean chit to Samajwadi Party chief Mulayam Singh Yadav in a six-year-old disproportionate assets case, contradicting its own investigations conducted in 2007.
Filing a closure report in the preliminary enquiry registered against Mulayam and his family, the investigating agency, "After exploring each possible avenue, CBI has closed the PE against Mulayam and his family members, on account of grossly insufficient evidence."
Later, CBI Director Ranjit Sinha told The Indian Express, "We are ready for any legal scrutiny in the matter."
The agency carried out the reassessment of the case after a Supreme Court order in 2012 directing it to exclude the assets, income and expenditure of Mulayam's daughter-in-law Dimple Yadav. "Careful examination of documents, statement of witnesses and the versions of the suspects during the course of further enquiry, has not brought out sufficient evidence supporting the allegations," the CBI stated.
Defending its action, it said, "A large number of advances which were shown as assets as well as expenditure in 2007, leading to double accounting by CBI, now stand corrected. Similarly, a number of heavy advances, despite being refunded subsequently, were taken as assets in 2007. These refunds stand corroborated from the bank accounts statements. Earlier, these advances were shown as assets on the basis of their reflection in a particular income tax return."
It said the further enquiry in 2013 also undertook an amount of Rs 8.42 lakh as expenditure on account of the education of Akhilesh Yadav abroad, which was not there in the 2007 probe.
In its closure report, the CBI said each and "every item brought out in the earlier findings of CBI has been thoroughly re-examined and reassessed. Care has also been taken to probe every single item finding mention in the writ petition of Vishwanath Chaturvedi".
source:indianexpress