Tamil Nadu R K Nagar By Election 2017 Result Voting Live Dates Candidates News Update
Tamil Nadu Jayalalithaa's R K Nagar By Poll Result 2017, R K Nagar By Election Result 2017, R K Nagar By Poll Voting Live, Tamil Nadu R K Nagar Candidate list 2017, Tamil Nadu R K Nagar Winner 2017, Tamil Nadu R K Nagar MLA 2017, Tamil Nadu R K Nagar 2017 Voter list, Tamil Nadu R K Nagar Exit poll, Tamil Nadu R K Nagar by Election Date 2017, Tamil Nadu R K Nagar by election candidate list, by-poll, election, R K Nagar, Tamil Nadu, TN, vacant seat, December 21, 2017, dates
Tamil Nadu R K Nagar By Election 2017 Result
TTV Dinakaran has declared himself as the "true political heir" of the late J Jayalalithaa after winning the by-election to RK Nagar assembly seat in Tamil Nadu. Thanking voters, the sidelined AIADMK leader has vowed to bring down the EPS-OPS government in the state "within three months".
Final Tally
TTV Dinakaran (Independent): 89,013
E Madhusudhanan (AIADMK): 48,306
N Maruthu Ganesh (DMK): 24,651
On Jayalalithaa's seat, the AIADMK says it is confident of a win, which will help establish that Chief Minister E Palaniswami and his team are in control.
The AIADMK have fielded senior leader E Madhusudanan, who has held the seat before.
He contested against TTV Dhinakaran and DMK's Marudhu Ganesh. DMK working president MK Stalin too, said that he was certain that his party would emerge victorious in the RK Nagar bypoll.
R K Nagar bypoll 2017 Live Voting
59% voting was recorded till 3pm.

RK Nagar By-Election - 41.6% Voting Till 1 PM, Say Election Authorities

Elaborate security arrangements are in place with about 2,000 State police personnel, 15 companies of Central Armed Police Forces, including CRPF deployed across 256 polling stations.

R.K Nagar has an electorate of 2,28,234, comprising 1,10,903 men, 1,17,232 women and 99 transgenders.

Voting for the high stakes by-election in RK Nagar Assembly constituency, which fell vacant after the death of late AIADMK chief J Jayalalithaa, is being carried out amid tight security in Chennai today.

Voting for the RK Nagar by-election began sharp at 8 am this morning.
R K Nagar bypoll 2017 : EC releases final list of 59 candidates, just one woman in fray

The final list of candidates was announced after the deadline to withdraw nominations ended on Thursday. In all 145 nominations were received out of which 137 were from male candidates and 8 from female candidates. After scrutiny of papers, the election commission accepted 72 nominations and rejected 73. Till the deadline of withdrawal of nomination on Thursday, 13 affidavits were withdrawn.
Out of the total 59 candidates who will not contest in the R K Nagar bypoll, only one is a woman. Out of the 59 candidates, 47 are independents. The AIADMK, BSP, BJP, DMK have fielded candidates for the bypoll. The bypoll is expected to be a three-cornered contest between the AIADMK's E Madhusudanan, DMK's Marudu Ganesh and independent candidate TTV Dinakaran.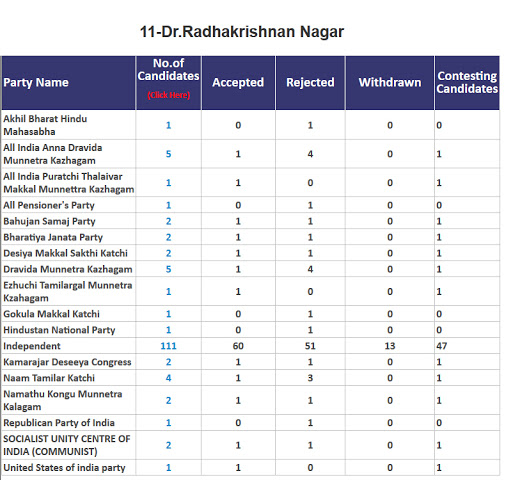 Tamil Nadu R K Nagar By Election 2017 Live Results
By-election to the Dr Radha Krishnan Nagar Assembly constituency in Chennai, which fell vacant following the demise of former Tamil Nadu chief minister J.Jayalalithaa last year, will be held on 21 December, the Election Commission announced on Friday.

The announcement comes days after the Madras high court said it expected the Election Commission to hold by-election in RK Nagar by 31 December. Chief justice Indira Banerjee and justice M.Sundar made the observation on a plea of a DMK leader R.S. Bharathi.

The by-election in RK Nagar, previously scheduled for 12 April 2017, was subsequently cancelled by the election panel following allegations of bribing of voters.

Also, the cancellation of bypoll came days after the income tax department held searches in premises of Tamil Nadu health minister C. Vijayabaskar. The premises belonging to the minister's associates were also searched and raids revealed routing of Rs89 crore for "distribution to voters" in RK Nagar assembly segment.

Documents seized during searches at the premises of an accountant of the minister showed details of Rs89 crore and the money being channelled to RK Nagar through party functionaries. The amount was allegedly channelled through many party functionaries for distribution to voters, income tax sources had told PTI in April.
| | |
| --- | --- |
| Poll Events | Schedule |
| Date of Issue of Gazette Notification | 27-Nov-17 |
| Last Date of Nominations | 4-Dec-17 |
| Date for Scrutiny of Nominations | 5-Dec-17 |
| Last Date for Withdrawal of candidatures | 7-Dec-17 |
| Date of Poll | 21-Dec-17 |
| Date of Counting | 24-Dec-17 |
| Date before which election shall be completed | 26-Dec-17 |
R K Nagar Last Assembly Election Result 2016
| | | |
| --- | --- | --- |
| Name | Party | Votes |
| Jayalalithaa J | ADMK (Won) | 97037 |
| Shimla Muthuchozhan | DMK | 57420 |
| Vasanthi Devi V | VCK | 4182 |