Punjab Parliament constituency list, Punjab, Punjab, Parliament Constituency, Lok sabha Constituency, Parliament constituency list with vote margin, Assembly constituency, parliament constituency list of Punjab, Punjab Parliament, Parliament Constituency,
Details

Parent Category: Political News
Last Updated:

Saturday, 05 December 2015 17:33
Punjab Parliament constituency list details:-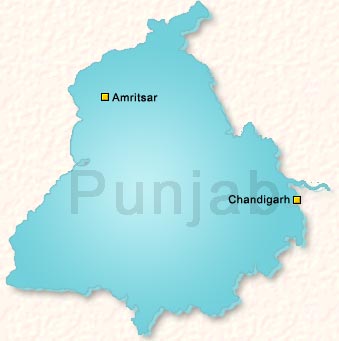 Lok Sabha, the lower house of the Parliament of India is made up of Members of Parliament (MPs). There are currently 543 constituencies. The maximum size of the Lok Sabha as outlined in the Constitution of India is 550 members made up of up to 530 members representing people of the states of India and Punjab comprises of 13 parliamentary constituencies.
Punjab (13)

Constituency

Constituency

Assembly constituency

1

Gurdaspur

1-Sujanpur 2-Bhoa (SC) 3-Pathankot 4- Gurdaspur 5-Dina Nagar (SC) 6-Qadian 7-Batala 9-Fatehgarh Churian

1Gurdaspur1-Sujanpur 2-Bhoa (SC) 3-Pathankot 4- Gurdaspur 5-Dina Nagar (SC) 6-Qadian 7-Batala 9-Fatehgarh Churian10-Dera Baba Nanak

2

Amritsar

11-Ajnala 12-Raja Sansi 13-Majitha 15-Amritsar North 16-Amritsar West (SC) 17-Amritsar Central 18-Amritsar East

2Amritsar11-Ajnala 12-Raja Sansi 13-Majitha 15-Amritsar North 16-Amritsar West (SC) 17-Amritsar Central 18-Amritsar East19-Amristar South 20-Attari (SC)

3

Khadoor Sahib

14-Jandiala (SC) 21-Tarn Taran 22-Khem Karan 23-Patti 24-Khadoor Sahib 25-Baba Bakala (SC) 27-Kapurthala

3Khadoor Sahib14-Jandiala (SC) 21-Tarn Taran 22-Khem Karan 23-Patti 24-Khadoor Sahib 25-Baba Bakala (SC) 27-Kapurthala28-Sultanpur Lodhi 75-Zira

4

Jalandhar

30-Phillaur (SC) 31-Nakodar 32-Shahkot 33-Kartarpur (SC) 34-Jalandhar West (SC) 35-Jalandhar Central

4Jalandhar30-Phillaur (SC) 31-Nakodar 32-Shahkot 33-Kartarpur (SC) 34-Jalandhar West (SC) 35-Jalandhar Central36-Jalandhar North 37-Jalandhar Cantt. 38-Adampur (SC)

5

Hoshiarpur

8-Sri Hargobindpur (SC) 26-Bholath 29-Phagwara (SC) 39-Mukerian 40-Dasuya 41-Urmar 42-Sham Chaurasi (SC)

5Hoshiarpur8-Sri Hargobindpur (SC) 26-Bholath 29-Phagwara (SC) 39-Mukerian 40-Dasuya 41-Urmar 42-Sham Chaurasi (SC)43-Hoshiarpur 44-Chabbewal (SC)

6

Anandpur Sahib

45-Garhshankar 46-Banga (SC) 47-Nawan Shahr 48-Balachaur 49-Anandpur Sahib 50-Rupnagar

6Anandpur Sahib45-Garhshankar 46-Banga (SC) 47-Nawan Shahr 48-Balachaur 49-Anandpur Sahib 50-Rupnagar51-Chamkaur Sahib (SC) 52-Kharar 53-S.A.S. Nagar

7

Ludhiana

60-Ludhiana East 61-Ludhiana South 62-Atam Nagar 63-Ludhiana Central 64-Ludhiana West 65-Ludhiana North

7Ludhiana60-Ludhiana East 61-Ludhiana South 62-Atam Nagar 63-Ludhiana Central 64-Ludhiana West 65-Ludhiana North66. Gill (SC) 68-Dakha 70-Jagraon (SC)

8

Fatehgarh Sahib

54-Bassi Pathana (SC) 55-Fatehgarh Sahib 56-Amloh 57-Khanna 58-Samrala 59-Sahnewal 67-Payal (SC)

8Fatehgarh Sahib54-Bassi Pathana (SC) 55-Fatehgarh Sahib 56-Amloh 57-Khanna 58-Samrala 59-Sahnewal 67-Payal (SC)69-Raikot (SC) 106-Amargarh

9

Faridkot

71-Nihal Singhwala (SC) 72-Bhagha Purana 73-Moga 74-Dharamkot 84-Giddarbaha 87-Faridkot 88-Kotkapura

9Faridkot71-Nihal Singhwala (SC) 72-Bhagha Purana 73-Moga 74-Dharamkot 84-Giddarbaha 87-Faridkot 88-Kotkapura89-Jaitu (SC) 90-Rampura Phul

10

Firozpur

76-Firozpur City 77-Firozpur Rural (SC) 78-Guru Har Sahai 79-Jalalabad 80-Fazilka 81-Abohar 82-Balluana (SC)

10Firozpur76-Firozpur City 77-Firozpur Rural (SC) 78-Guru Har Sahai 79-Jalalabad 80-Fazilka 81-Abohar 82-Balluana (SC)85-Malout (SC) 86-Muktsar

11

Bathinda

83-Lambi 91-Bhucho Mandi (SC) 92-Bathinda Urban 93-Bathinda Rural (SC) 94-Talwandi Sabo 95-Maur 96-Mansa

11Bathinda83-Lambi 91-Bhucho Mandi (SC) 92-Bathinda Urban 93-Bathinda Rural (SC) 94-Talwandi Sabo 95-Maur 96-Mansa97-Sardulgarh 98-Budhlada (SC)

12

Sangrur

99-Lehra 100-Dirba (SC) 101-Sunam 102-Bhadaur (SC) 103-Barnala 104-Mehal Kalan (SC) 105-Malerkotla 107-Dhuri

12Sangrur99-Lehra 100-Dirba (SC) 101-Sunam 102-Bhadaur (SC) 103-Barnala 104-Mehal Kalan (SC) 105-Malerkotla 107-Dhuri108-Sangrur

13

Patiala

109-Nabha (SC) 110-Patiala Rural 111-Rajpura 112-Dera Bassi 113-Ghanaur 114-Sanour 115-Patiala 116-Samana

13Patiala109-Nabha (SC) 110-Patiala Rural 111-Rajpura 112-Dera Bassi 113-Ghanaur 114-Sanour 115-Patiala 116-Samana117-Shutrana (SC)