Shillong Parliamentary Constituency 2019, Shillong Lok Sabha Constituency Details, Political News Shillong, Meghalaya Lok Sabha Elections 2019 News Updates, Meghalaya Parliamentary Constituency details 2014, Shillong Parliamentary Constituency details 201
Details

Parent Category: Political News
Last Updated:

Tuesday, 29 January 2019 17:31
Shillong Parliamentary Constituency 2019, Shillong Lok Sabha Constituency Details, Political News Shillong, Meghalaya Lok Sabha Elections 2019 News Updates, Meghalaya Parliamentary Constituency details 2014, Shillong Parliamentary Constituency details 2019, Shillong MP, Issues Political Analysis 2019: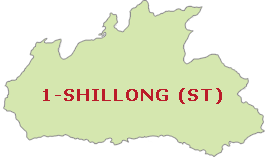 About the Constituency:
Shillong is one of the two Lok Sabha parliamentary constituencies of the state of Meghalaya. The Shillong Parliamentary constituency (constituency number 1) has a total of 771,965 electorates out of which 397,252 are females and 374,713 are males according to Election Commission of India 2009 reports. It is reserved for the ST category and is the headquarters of the district of East Khasi Hills.
Assembly Segments:
Formed before the elections of 1957, Shillong has a total of 36 legislative assemblies.
Names of Assembly Constituencies

Nartiang

Jirang

South Shillong

Jowai

Umsning

Mylliem

Raliang

Umroi

Nongthymmai

Mowkaiaw

Mawryngkneng

Nongkrem

Sutnga-Saipung

Pynthorumkhrah

Sohiong

Khliehriat

Mawlai

Mawphlang

Amlarem

East Shillong

Mawsynram

Mawhati

North Shillong

Shella

Nongpoh

West Shillong

Pynursla

Sohra

Mawthadraishan

Mawshynrut

Mawkynrew

Nongstoin

Ranikor

Mairang

Rambrai Jyrngam

Mawkyrwat
About Shillong:
It is the capital and the largest city of Meghalaya . Shillong is located at an average height of 1,500 metres and covers an area of about 65 sq km. It lies on the Shillong Plateau and is 55 km away from Mawsynram. The city is connected to nearby towns by National Highways, NH-40 and NH-44. English is the medium of imparting education and Shillong houses several esteemed schools and colleges including EFLU, IIM, IHM, NIFT and NIT.
Demographic Pattern:

Has a population of over 3,50,000. With 51% of the population comprising of females, Shillong boasts of a sex ratio of 1,006 females per 1,000 males, a rarity in Indian society. The society consists of Hindus, Muslims and Christians with a 60% majority being Christian. Most of the population belongs to the Khasi tribe.
A Look: Sitting MP
| | |
| --- | --- |
| Name of MP | Vincent H Pala |
| Age | 45 |
| Nature of Membership | Elected |
| Term | 18-May-09 to In office |
| Political Party | Indian National Congress |
| Gender | Male |
| Educational Qualification | Graduate |
Performance in the 15th Lok Sabha:
| | |
| --- | --- |
| Debates participated | 3 |
| Private member bills passed | 0 |
| Questions asked | 17 |
| Attendance | 82% |