Amethi Uttar Pradesh Parliamentary Constituency 2019, Amethi Lok Sabha Constituency Details, Political News Amethi, Uttar Pradesh Lok Sabha Elections 2019 News Updates, Uttar Pradesh Parliamentary Constituency details 2019, Amethi MP, Issues Political Ana
Details

Parent Category: Political News
Last Updated:

Tuesday, 29 January 2019 17:58
Amethi Uttar Pradesh Parliamentary Constituency 2019, Amethi Lok Sabha Constituency Details, Political News Amethi,Uttar Pradesh Lok Sabha Elections 2019 News Updates, Uttar Pradesh Parliamentary Constituency details 2019, Amethi MP, Issues Political Analysis 2019: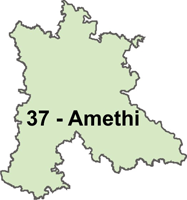 About the Constituency:
One of the 80 Lok Sabha Constituencies of Uttar Pradesh, Amethi Parliamentary Constituency came into existence prior to the 1967 elections. The Amethi Parliamentary constituency (constituency number 37) has a total of 1,431,787 electorates out of which 679,304 are females and 752,483 are males according to Election Commission of India 2009 reports.
Assembly Segments:
It comprises of five Vidhan Sabha segments of which two are reserved for the SC category.
Names of Assembly Constituencies

Tiloi

Salon (SC)

Jagdishpur (SC)

Gauriganj

Amethi
About Amethi:
It covers the entire district of Amethi, previously known as the Chatrapati Shahuji Maharaj Nagar District, sprawls over an area of 3,070 sq km and has an elevation of 104 m. The district is divided into four tehsils and the city of Gauriganj is the center of administration. Amethi city lies at a distance of 40 km from Sultanpur. Hindi is the official language here while Awadhi is also widely spoken. Basic education facilities, including municipality schools and a handful of colleges are available here. The forest and its products play a very important role in the economic setup of the city. An extensive road network and railways connect it to several major areas of the country.
Demographic Pattern:
As per India census 2001, Amethi has a population of 12,808 with a 52% male majority and 48% of females. Muslims have a majority here. Amethi has a sex ratio of over 850 and a literacy rate of above 60%.
A Look: Sitting MP:
| | |
| --- | --- |
| Name of MP | Rahul Gandhi |
| Age | 43 |
| Nature of Membership | Elected |
| Term | 18-May-09 to In office |
| Political Party | Indian National Congress |
| Gender | Male |
| Educational Qualification | Post Graduate |
Performance in the 15th Lok Sabha:
| | |
| --- | --- |
| Debates participated | 2 |
| Private member bills passed | 0 |
| Questions asked | 0 |
| Attendance | 0.43 |