Allahabad Uttar Pradesh Parliamentary Constituency 2019, Allahabad Lok Sabha Constituency Details, Political News Allahabad, Uttar Pradesh Lok Sabha Elections 2019 News Updates, Uttar Pradesh Parliamentary Constituency details 2019, Allahabad MP, Issues P
Details

Parent Category: Political News
Last Updated:

Tuesday, 29 January 2019 17:59
Allahabad Uttar Pradesh Parliamentary Constituency 2019, Allahabad Lok Sabha Constituency Details, Political News Allahabad,Uttar Pradesh Lok Sabha Elections 2019 News Updates, Uttar Pradesh Parliamentary Constituency details 2019, Allahabad MP, Issues Political Analysis 2019: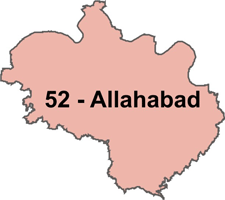 About the Constituency:
The Parliamentary Constituency of Allahabad is one of the 80 Lok Sabha constituencies of the state of Uttar Pradesh formed prior to the 1952 elections. According to Election Commission of India 2009 data the total electorates in the Allahabad Parliamentary constituency (constituency number 52) were 1,267,492 of which 572,169 are females and 695,323 are males.
Demographic pattern:
According to the census data of 2011, Allahabad has a total population of 1,216,719 of which 53% are males and 47% are females, making it the seventh most populated city in the country. It has a sex ratio of 901 females per 1000 males. 13% of the population is below the age of six. The city of Allahabad has an average literacy of 74.41% with male literacy at 85% and female literacy at 62.67%. 78% of the population is Hindus, followed by 20% of Muslims
About Allahabad:
The administrative headquarters of Allahabad district is situated in the city of Allahabad. It is located at the confluence of the rivers Ganga, Yamuna and Saraswati, making it a sacred city for the Hindus. This town lies at an average elevation of 98 meters and covers an area of 5,424 sq. km. Hindi is the official language of Allahabad with Awadhi and Khariboli being widely spoken by the residents.
Assembly Segments:
It has five Vidhan Sabha segments of which two are reserved for the SC category
Names of Assembly Constituencies

Meja

Karachhana

Allahabad South

Bara (SC)

Koraon (SC)
Unknown facts:
The economy of this city is primarily dependent on tourism, fishing and agriculture. Allahabad boasts of a well-established education system with a promising number of notable universities, schools and colleges that attract students from all over India. National Highway NH 2 passes through the middle of this city.
A Look: Sitting MP:
| | |
| --- | --- |
| Name of MP | Rewati Raman Singh |
| Age | 70 |
| Nature of Membership | Elected |
| Term | 18-May-09 to In office |
| Political Party | Samajwadi Party |
| Gender | Male |
| Educational Qualification | Graduate |
Performance in the 15th Lok Sabha:
| | |
| --- | --- |
| Debates participated | 56 |
| Private member bills passed | 0 |
| Questions asked | 217 |
| Attendance | 88% |