Fatehpur Uttar Pradesh Parliamentary Constituency 2019, Fatehpur Lok Sabha Constituency Details, Political News Fatehpur, Uttar Pradesh Lok Sabha Elections 2019 News Updates, Uttar Pradesh Parliamentary Constituency details 2019, Fatehpur MP, Issues Polit
Details

Parent Category: Political News
Last Updated:

Tuesday, 29 January 2019 17:57
Fatehpur Uttar Pradesh Parliamentary Constituency 2019, Fatehpur Lok Sabha Constituency Details, Political News Fatehpur,Uttar Pradesh Lok Sabha Elections 2019 News Updates, Uttar Pradesh Parliamentary Constituency details 2019, Fatehpur MP, Issues Political Analysis 2019: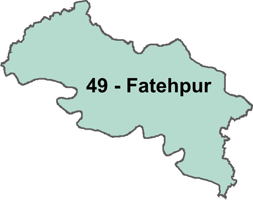 About the Constituency:
The parliamentary constituency of Fatehpur is one of the 80 Lok Sabha constituencies of Uttar Pradesh comprising of five segments one of which is reserved for the SC category. The Fatehpur Lok Sabha Constituency (constituency number 49) consists of 1,536,621 number of electorates in totality, of these 844,959 are males and 691,662 are females as the Election commission of India 2009 data suggests. Presently, it has a total number of 1,541,064 electorates and was formed in the year 1957. Presently, it has a total number of 1,541,064 electorates and was formed in the year 1957.
Assembly Segments:
Names of Assembly Constituencies

Jahanabad

Bindki

Fatehpur

Ayah Shah

Husainganj

Khaga (SC)
About Fatehpur:
The city of Fatehpur is the headquarters of the Fatehpur district which sprawls over a total area of 4,152 sq km. The city of Fatehpur lies between Ganges and Yamuna rivers and has an average elevation of 110 m. It is 117 km away from Allahabad and 76 km from Kanpur. The city is situated on the National Highway NH-2 and is well connected to the nearby areas. Many schools and colleges are located here and the city is also famous for having many prominent Hindu temples.
Demographic Pattern:
The district has a total population of 2,308,384 and is a part of the Allahabad Division. Fatehpur city has a total population of 193,801 as per the 2011 census data of which 51% comprises of males and 49% comprises of females. About 16% of the population is under the age of six and the city has a sex ratio of 907 females per 1000 males. The average literacy rate is 77.69% with 83.06% male literacy and 71.82% female literacy.
Present Political Scenario:
A Polarized Upper Caste(mainly Thakur) and Nishad may become the deciding factor.