Faizabad Uttar Pradesh Parliamentary Constituency 2019, Faizabad Lok Sabha Constituency Details, Political News Faizabad, Uttar Pradesh Lok Sabha Elections 2019 News Updates, Uttar Pradesh Parliamentary Constituency details 2019, Faizabad MP, Issues Polit
Details

Parent Category: Political News
Last Updated:

Tuesday, 29 January 2019 18:15
Faizabad Uttar Pradesh Parliamentary Constituency 2019, Faizabad Lok Sabha Constituency Details, Political News Faizabad,Uttar Pradesh Lok Sabha Elections 2019 News Updates, Uttar Pradesh Parliamentary Constituency details 2019, Faizabad MP, Issues Political Analysis 2019: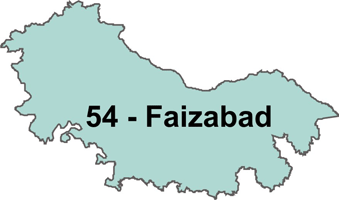 About the Constituency:
One of the 80 Lok Sabha constituencies of Uttar Pradesh, the constituency of Faizabad covers the district of Faizabad. The Faizabad Lok Sabha Constituency (constituency number 54) consists of 1,500,160 number of electorates in totality, of these 803,428 are males and 696,732 are females as the Election commission of India 2009 data suggests.
Assembly Segments:
It was formed prior to the 1957 constituency elections and currently comprises of five Vidhan Sabha segments of which one is reserved for the SC category.
Names of Assembly Constituencies

Dariyabad

Rudauli

Milkipur (SC)

Bikapur

Ayodhya
About Faizabad:
Faizabad City is the headquarters of the Faizabad District and belongs to the administrative division of Faizabad. Situated on the banks of River Ghaghra, the district has an area of 2,799 sq km. It has an elevation of 97 m and is about 127 km from Lucknow. National Highway NH-28 connects the district to a large road network with several major cities all over the country.
Demographic :
It is home to over 2,470,000 of which about 1,260,000 are males and about 1,211,000 are females. It has a sex ratio of 962 females per 1000 males. With an average literacy rate of 68.88%.
Present Political Scenario:
Brahmins + Thakurs + Kurmis + Other Upper Castes account for close to 6 lakh voters section of Dalit (Chamar) votes here.

Decisive Assembly Segments:
Ayodhya, Rudauli and Milkipur assembly segments may decide the course of victory.