Bareilly Uttar Pradesh Parliamentary Constituency 2019, Bareilly Lok Sabha Constituency Details, Political News Bareilly, Uttar Pradesh Lok Sabha Elections 2019 News Updates, Uttar Pradesh Parliamentary Constituency details 201, Bareilly MP, Issues Politi
Details

Parent Category: Political News
Last Updated:

Tuesday, 29 January 2019 17:32
Bareilly Uttar Pradesh Parliamentary Constituency 2019, Bareilly Lok Sabha Constituency Details, Political News Bareilly,Uttar Pradesh Lok Sabha Elections 2019 News Updates, Uttar Pradesh Parliamentary Constituency details 201, Bareilly MP, Issues Political Analysis 2019: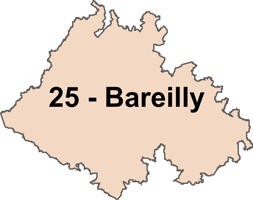 About the Constituency:
One of the 80 Lok Sabha Constituencies of Uttar Pradesh, Bareilly Parliamentary Constituency was formed before the 1952 elections. The Bareilly Lok Sabha Constituency (constituency number 25) consists of 1,401,423 number of electorates in totality, of these 762,856 are males and 638,567 are females as the Election commission of India 2009 data suggests.
Assembly Segments:
It comprises of five Vidhan Sabha segments.
Names of Assembly Constituencies

Meerganj

Bhojipura

Nawabganj

Bareilly

Bareilly Cantonment
About Bareilly:
It covers the entire district of Bareilly which sprawls over an area of 4,120 sq km. The district is divided into six tehsils and the city of Bareilly is the center of administration. Bordered by the districts of Pilibhit, Badaun and Shahjahanpur , it lies just south of Uttarakhand.
Demographic Pattern:
As per India census 2011, the district has a population of 4,465,344 with a 53% male majority and 47% of females. It is the 39th most populated district of the country. Over the decade of 2001-2011, the population growth rate here was 23.4% and the population density is 1,084 inhabitants per sq km. Children constitute 15.77% of the population and the sex ratio here is 887 females per 1000 males. The average literacy rate here is below the national average at 58.49% with male and female literacy rates at 67.50% and 48.30% respectively. Hindus have a 62% majority here.
Present Political Scenario:
6 time MP of BJP who won the election since 1989, lost the last election but this time he may clinch the seat for the party