Barabanki Uttar Pradesh Parliamentary Constituency 2019, Barabanki Lok Sabha Constituency Details, Political News Barabanki, Uttar Pradesh Lok Sabha Elections 2019 News Updates, Uttar Pradesh Parliamentary Constituency details 2019, Barabanki MP, Issues P
Details

Parent Category: Political News
Last Updated:

Friday, 25 January 2019 11:55
Barabanki Uttar Pradesh Parliamentary Constituency 2019, Barabanki Lok Sabha Constituency Details, Political News Barabanki,Uttar Pradesh Lok Sabha Elections 2019 News Updates, Uttar Pradesh Parliamentary Constituency details 2019, Barabanki MP, Issues Political Analysis 2019: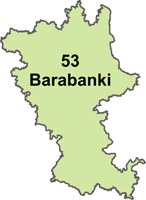 About the Constituency:
The Barabanki Parliamentary constituency (constituency number 53) has a total of 1,422,218 electorates out of which 653,922 are females and 768,296 are males according to Election Commission of India 2009 reports.
Assembly Segments:
One of the 80 constituencies of Uttar Pradesh, Barabanki Lok Sabha Constituency was formed prior to 1957, reserved for the SC category and has five Vidhan Sabha segments.
Names of Assembly Constituencies

Kursi

Ram Nagar

Barabanki

Zaidpur (SC)

Haidergarh (SC)
About Barabanki:
The Barabanki city is located in Barabanki District, 29 km from Lucknow at a height of 125 m. The district of Barabanki sprawls over an area of over 3890 sq km. There are several schools, both public and private, affiliated to both the state and central boards of education. Many colleges offering courses in various fields are located here. Economically, most of the people are involved in agriculture, animal husbandry and trade. The handicraft and handloom industries are also well developed here. The state first solar power plant was built here. The National Highway NH-24A, NH-28, NH-28C and NH-56A pass through here.
Demographic pattern:
As per 2011 India Census, the city has a population of 146,831 of which male and female population are 77,776 and 69,065 respectively. 14% of the population is below the age of six and the sex ratio is 888 females per 1000 males. The city has an average literacy rate of 81.85% with male literacy rate of 84.53% and female literacy rate of 77.34%. 50% of the population is Muslim and 49% is Hindu.
Present Political Scenario:
Dalit votes, especially those of Pasis will make a big difference. In Barabanki, there are 6 lakh Dalit votes (about 60% of them Pasis) and 2 lakh Kurmi voters who will eventually decide who wins this seat.