Bahraich Uttar Pradesh Parliamentary Constituency 2019, Bahraich Lok Sabha Constituency Details, Political News Bahraich, Uttar Pradesh Lok Sabha Elections 2019 News Updates, Uttar Pradesh Parliamentary Constituency details 2019, Bahraich MP, Issues Polit
Details

Parent Category: Political News
Last Updated:

Friday, 25 January 2019 12:18
Bahraich Uttar Pradesh Parliamentary Constituency 2019, Bahraich Lok Sabha Constituency Details, Political News Bahraich,Uttar Pradesh Lok Sabha Elections 2019 News Updates, Uttar Pradesh Parliamentary Constituency details 2019, Bahraich MP, Issues Political Analysis 2019: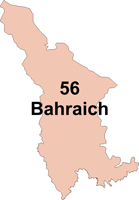 About the Constituency:
According to Election Commission of India 2009 data the total electorates in the Bahraich Parliamentary constituency (constituency number 56) were 1,246,823 of which 570,231 are females and 676,592 are males.
Assembly Segments:
One of the 80 Lok Sabha Constituencies of Uttar Pradesh, formed before 1952, Bahraich is reserved for the SC category and comprises of five Vidhan Sabha segments.
Names of Assembly Constituencies

Balha (SC)

Nanpara

Matera

Mahasi

Bahraich
About Bahraich:
It covers the District of Bahraich which is a part of the Devipatan Division and covers an area of 4,696.8 sq km. It is bordered by Nepal, Lakhimpur, Sitapur, Hardoi, Gonda and Shravasti. Bahraich is one of India's 250 most backward districts and receives funds from the Backward Regions Grant Fund Programme. The road network of the district is connected to the National Highway of NH-28C.
Demographic Pattern:
As per India census data 2011, the district of Bahraich has a population of 3,478,257 with 53% male majority and 47% of females. Over the decade of 2001-2011, the population growth rate was 46.08% and the population density of Rampur is 740 people per sq km. 18.77% of the population is under six years and the sex ratio is 892 females per 1000 males. 36% of the population belongs to the minor groups. The average literacy rate here is below the national average at 49.36% with male and female literacy rates at 58.34% and 39.18%.
Present Political Scenario:
Expected Assembly Segments: Balha, Bahraich and Mahsi assembly segments expected to be the deciding factor who so ever wins it.