Unnao Uttar Pradesh Parliamentary Constituency 2019, Unnao Lok Sabha Constituency Details, Political News Unnao, Uttar Pradesh Lok Sabha Elections 2019 News Updates, Uttar Pradesh Parliamentary Constituency details 2019, Unnao MP, Issues Political Analysi
Details

Parent Category: Political News
Last Updated:

Thursday, 24 January 2019 15:57
Unnao Uttar Pradesh Parliamentary Constituency 2019, Unnao Lok Sabha Constituency Details, Political News Unnao,Uttar Pradesh Lok Sabha Elections 2019 News Updates, Uttar Pradesh Parliamentary Constituency details 2019, Unnao MP, Issues Political Analysis 2019: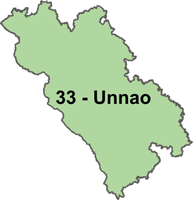 About the Constituency:
The Parliamentary Constituency of Unnao is one of the 80 Lok Sabha constituencies of the state of Uttar Pradesh formed prior to the 1952 elections. The Unnao Lok Sabha Constituency (constituency number 33) consists of 1,818,980 number of electorates in totality, of these 998,067 are males and 820,913 are females as the Election commission of India 2009 data suggests.
Assembly Segments:
Names of Assembly Constituencies

Bangermau

Safipur (SC)

Mohan (SC)

Unnao

Bhagwantnagar

Purwa
About Unnao:
The administrative headquarters of Unnao district is situated in the city of Unnao. It is located at a distance of 18 km from Kanpur and 60 km from Lucknow at an average elevation of 98 meters and covers an area of 4,558 sq. km. This district is part of the Lucknow Division. Hindi and English are the official languages of Unnao. The economy of this city is primarily dependent on the tanning industry. Unnao has a promising number of notable schools and colleges, both government and private. The National Highway NH 25 passes through this city.
Demographic pattern:
According to the census data of 2011, Unnao has a total population of 3,108,367 of which 52% are males and 48% are females. It has a sex ratio of 907 females per 1000 males and 14.02% of the population is below the age of six. The city of Unnao has an average literacy of 66.37% with male literacy at 75.05% and female literacy at 56.76%. Hinduism is the predominant religion here with 69% of the total population being Hindus, followed by 28% of Muslims.
Present Political Scenario:
Brahmin dominated area
In this Brahmin dominated seat (about 4 lakh Brahmin votes) where Congress's Anu Tandon had won a thumping victory in 2009 with a margin of over 3 lakhs.