Sultanpur Uttar Pradesh Parliamentary Constituency 2019, Sultanpur Lok Sabha Constituency Details, Political News Sultanpur, Uttar Pradesh Lok Sabha Elections 2019 News Updates, Uttar Pradesh Parliamentary Constituency details 2019, Sultanpur MP, Issues P
Details

Parent Category: Political News
Last Updated:

Thursday, 24 January 2019 16:22
Sultanpur Uttar Pradesh Parliamentary Constituency 2019, Sultanpur Lok Sabha Constituency Details, Political News Sultanpur,Uttar Pradesh Lok Sabha Elections 2019 News Updates, Uttar Pradesh Parliamentary Constituency details 2019, Sultanpur MP, Issues Political Analysis 2019: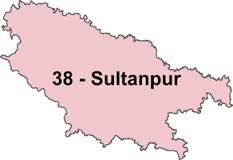 About the Constituency:
The Parliamentary Constituency of Sultanpur is one of the 80 Lok Sabha constituencies of the state of Uttar Pradesh formed prior to the 1951 elections. The Sultanpur Lok Sabha Constituency (constituency number 38) consists of 1,430,955 number of electorates in totality, of these 764,314 are males and 666,641 are females as the Election commission of India 2009 data suggests.
Assembly Segments:
It presently comprises of five Vidhan Sabha segments of which one was reserved for the SC category.
Names of Assembly Constituencies

Isauli

Sultanpur

Sadar

Lambhua

Kadipur (SC)
About Sultanpur:
The administrative headquarters of Sultanpur district is situated in the city of Sultanpur. It is located on the right banks of the river Gomti at an average elevation of 95 meters. This district is part of the Faizabad Division. Hindi is the official language of Sultanpur with Awadhi being widely spoken by the locals. The economy of this city is primarily dependent on agriculture and small scale industries. Sultanpur has a promising number of notable schools and colleges, both government and private. The National Highway NH-56, NH-96 and NH-232 pass through the area.
Demography:
According to the census data of 2011, Sultanpur has a total population of 116,211 of which 52.54% are males and 47.46% are females. It has a sex ratio of 886 females per 1000 males and 10.44% of the population is below the age of six. The city of Sultanpur has an average literacy of 87.61 % with male literacy at 91.45% and female literacy at 83.37%. Hinduism is the predominant religion here with 82% of the total population being Hindus.
Present Political Scenario:
Varun Gandhi now in another Nehru- Gandhi Loyal Bastion
In a very good move, BJP has shifted Varun Gandhi to this Nehru-Gandhi loyalist seat. Here he is not only expected to win, but win big, especially now that Sanjay Singh has moved to the Rajya Sabha.

Sanjay Singh make shift to Rajya Sabha
Especially now that Sanjay Singh has moved to the Rajya Sabha, though Sanjay Singh's wife Amita Singh is contesting on the Congress ticket from here, she might not be able to challenge Varun Gandhi of the 18% Brahmins, 27% OBCs, 6% Thakurs and even 24% Dalits Varun may get a lion's share of the votes. While the 21% Muslim votes may get divided between Congress and Shakeel Ahmed of SP.