Sitapur Uttar Pradesh Parliamentary Constituency 2019, Sitapur Lok Sabha Constituency Details, Political News Sitapur, Uttar Pradesh Lok Sabha Elections 2019 News Updates, Uttar Pradesh Parliamentary Constituency details 2019, Sitapur MP, Issues Political
Details

Parent Category: Political News
Last Updated:

Thursday, 24 January 2019 15:37
Sitapur Uttar Pradesh Parliamentary Constituency 2019, Sitapur Lok Sabha Constituency Details, Political News Sitapur,Uttar Pradesh Lok Sabha Elections 2019 News Updates, Uttar Pradesh Parliamentary Constituency details 2019, Sitapur MP, Issues Political Analysis 2019: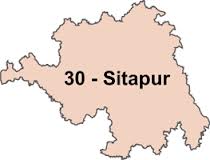 About the Constituency:
1,230,078 is the total electorate count in the Sitapur Lok Sabha Constituency (constituency number 30). Out of these 662,574 number of electorates are males and the remaining 567,504 are belong to the female category as the Election commission of India 2009 reports suggest.
Assembly Segments:
The Parliamentary Constituency of Sitapur is one of the 80 Lok Sabha constituencies of the state of Uttar Pradesh, formed in 1952 and it presently comprises of five Vidhan Sabha segments.
Names of Assembly Constituencies

Sitapur

Laharpur

Biswan

Sevata

Mahmoodabad
About Sitapur:
The administrative headquarters of Sitapur district is situated in the town of Sitapur which is located roughly in the northern part of the state at a distance of 89 km from Lucknow and lies at an average elevation of 138 meters. Hindi is the official language of Sitapur with Awadhi being widely spoken by the locals. Agriculture is the most important activity here, contributing to the majority of the economic setup of the town. Sitapur has a number of notable schools, colleges and institutions, both government and private. National Highway NH 24 passes through Sitapur.
Demography:
According to the census data of 2011, Sitapur has a total population of 177,351 of which 52.67% are males and 47.33% are females. It has a sex ratio of 899 females per 1000 males and 12% of the population is below the age of six. Hinduism is the predominant religion here with 73% of the population being Hindus, followed by 26% of Muslims. The city of Sitapur has an average literacy of 83.11% with male literacy at 76.44 % and female literacy at 67.41%.
Present Political Scenario:
BSP Man now in BJP, but a difficult seat for the party
Another of the Kurmi dominated seats where BJP has nominated Rajesh Verma, a new entrant to the party who was a two time MP from here on a BSP ticket and still holds considerable sway.