Lucknow Uttar Pradesh Parliamentary Constituency 2019, Lucknow Lok Sabha Constituency Details, Political News Lucknow, Uttar Pradesh Lok Sabha Elections 2019 News Updates, Uttar Pradesh Parliamentary Constituency details 2019, Lucknow MP, Issues Political
Details

Parent Category: Political News
Last Updated:

Thursday, 24 January 2019 16:06
Lucknow Uttar Pradesh Parliamentary Constituency 2019, Lucknow Lok Sabha Constituency Details, Political News Lucknow,Uttar Pradesh Lok Sabha Elections 2019 News Updates, Uttar Pradesh Parliamentary Constituency details 2019, Lucknow MP, Issues Political Analysis 2019: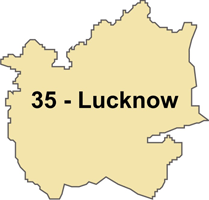 About the Constituency:
1,653,123 is the total electorate count in the Lucknow Lok Sabha Constituency (constituency number 35). Out of these 889,363 number of electorates are males and the remaining 763,760 are belong to the female category as the Election commission of India 2009 reports suggest.
Assembly Segments:
Lucknow is one of the 80 parliamentary constituencies of Uttar Pradesh which came into existence before the elections of 1951 and has five legislative assembly segments.
Names of Assembly Constituencies

Lucknow West

Lucknow North

Lucknow East

Lucknow Central

Lucknow Cantonment
About Lucknow:
The city of Lucknow is the district headquarters of the district of Lucknow as well as the capital of the state. The district covers a total area of 2,528.07 sq km. It has several prominent institutions including IIM Lucknow and Dr. Ram Manohar Lohiya National Law University. The City Montessori School of Lucknow is the only school in the world which has a Guinness World Record. It is the 6th fastest job yielding city of India and has a flourishing economy. NH-24, 24B, 25, 28 and 56 connect the city nationwide.
Demography:
With a population growth of 25.79% over a decade, the district had a population of 45,88,455 in 2011. The city and the metropolitan population was 28,15,601 and 29,08,455, respectively. At an average, about 53% of the population comprises of males and 47% of females and about 12% of the population is under the age of six. The sex ratio is 917 females per 1,000 males. The average literacy rate of Lucknow is 80% with male and female literacy rates of 83% and 72%, respectively. Awadhi and Hindi are the most prevalent languages here.
Present Political Scenario
Pre- dominantly a BJP bastion
BJP president Rajnath Singh will be contesting from this party stronghold, which was once represented by former PM Atal Bihari Vajpayee. BJP hasn't lost this seat in close to 25 years, since 1991.

X factor
The only new X factor this time is that the last 5 BJP victories from here have come from Brahmin candidates, whereas this time a Thakur is contesting from here on the party ticket. In fact, this seat has been an unofficial Brahmin reserved constituency where Brahmins have always won it since 1971, except for a very low turnout 1989 election.