Kheri Uttar Pradesh Parliamentary Constituency 2019, Kheri Lok Sabha Constituency Details, Political News Kheri, Uttar Pradesh Lok Sabha Elections 2019 News Updates, Uttar Pradesh Parliamentary Constituency details 2019, Kheri MP, Issues Political Analysi
Details

Parent Category: Political News
Last Updated:

Thursday, 24 January 2019 15:28
Kheri Uttar Pradesh Parliamentary Constituency 2019, Kheri Lok Sabha Constituency Details, Political News Kheri,Uttar Pradesh Lok Sabha Elections 2019 News Updates, Uttar Pradesh Parliamentary Constituency details 2019, Kheri MP, Issues Political Analysis 2019: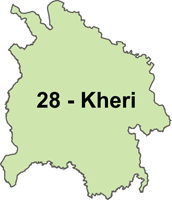 About the Constituency:
The Parliamentary Constituency of Kheri is one of the 80 Lok Sabha constituencies of the state of Uttar Pradesh formed prior to the 1957 elections.The Kheri Lok Sabha Constituency (constituency number 28) consists of 1,297,088 number of electorates in totality, of these 701,928 are males and 595,160 are females as the Election commission of India 2009 data suggests.
Assembly Segments:
It presently comprises of five Vidhan Sabha segments and is reserved for the SC category.
Names of Assembly Constituencies

Palia

Nighasan

Gola Gokrannath

Sri Nagar (SC)

Lakhimpur
About Kheri:
Kheri is a town and a nagar panchayat in Lakhimpur-Kheri district, the largest district in UP. It is located in the northern part of the state near the Nepal border. This town lies at an average elevation of 148 meters. Hindi is the official language of Kheri. Some of the largest sugar mills of the country are located in this district. Agriculture also contributes considerably to the economic setup of the region. This region is well connected to the major cities of the nation via a network of roads and railways and NH-76 passes through here.
Demography:
According to the census data of 2011, Kheri has a total population of 25,017 of which 52% are males and 48% are females. It has a sex ratio of 894 females per 1000 males and 18% of the population is below the age of six. 66% of the total population is Muslim here while several other religious groups reside here as well. The city of Kheri has an average literacy of 43% with male literacy at 48% and female literacy at 37%.
Present Political Scenario:
May turn out to be an polarized contest
There is a huge vote polarization along religious lines here and since Congress and BSP have both fielded Muslims and SP has re-nominated Ravi Prakash Verma
Ajay Mishra has been repeated by the BJP in a calculated .He is the sitting MLA of Nighasan

Where BJP must put focus on?
If Ajay Mishra manages to get leads in at least 2 out of three other assembly segments of Palia, Gola Gokrannath and Lakimpur, then BJP will be in the game.