Etawah Uttar Pradesh Parliamentary Constituency 2019, Etawah Lok Sabha Constituency Details, Political News Etawah, Uttar Pradesh Lok Sabha Elections 2019 News Updates, Uttar Pradesh Parliamentary Constituency details 2019, Etawah MP, Issues Political Ana
Details

Parent Category: Political News
Last Updated:

Thursday, 24 January 2019 16:44
Etawah Uttar Pradesh Parliamentary Constituency 2019, Etawah Lok Sabha Constituency Details, Political News Etawah,Uttar Pradesh Lok Sabha Elections 2019 News Updates, Uttar Pradesh Parliamentary Constituency details 2019, Etawah MP, Issues Political Analysis 2019: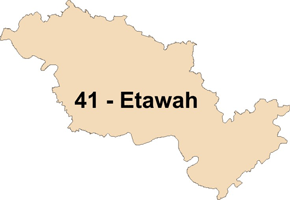 About the Constituency:
The Parliamentary Constituency of Etawah is one of the 80 Lok Sabha constituencies of the state of Uttar Pradesh formed prior to the 1957 elections. According to Election Commission of India 2009 data the total electorates in the Etawah Parliamentary constituency (constituency number 41) were 1,416,867 of which 629,242 are females and 787,625 are males.
Assembly Segments:
It presently comprises of five Vidhan Sabha segments and belongs to the SC category.
Names of Assembly Constituencies

Etawah

Bharthana (SC)

Dibiyapur

Auraiya (SC)

Sikandra
About Etawah:
The administrative headquarters of Etawah district is situated in the historic city of Etawah. It is located in the western part of the state at a distance of 302 km from the national capital, New Delhi. Situated on the banks of the river Yamuna, this town lies at an average elevation of 197 meters. Hindi is the official language of Etawah. The economy of this city is primarily dependent on the various powerlooms and other small scale industries present here. Etawah has a promising number of notable schools and colleges. National Highway NH 2 passes through Etawah, connecting it to the major cities of the nation.
Demographic pattern:
According to the census data of 2011, Etawah has a total population of 366,299 of which 53% are males and 47% are females. It has a sex ratio of 897 females per 1000 males. 12.16% of the population is below the age of six. 83% of the total population is Hindu here. The city of Etawah has an average literacy of 81.99% with male literacy at 86.34% and female literacy at 77.16%.
Present Political Scenario:
Caste Arithmetic
Reserved Seat: Pre- dominantly a SP domain
Caste Arithmetic:
In this SP bastion, about 1 lakh plus Chamar voters, 1 lakh plus Brahmin voters, 80k Rajput and 60k Lodh voters will decide the fate of SP.