Etah Uttar Pradesh Parliamentary Constituency 2019, Etah Lok Sabha Constituency Details, Political News Etah, Uttar Pradesh Lok Sabha Elections 2019 News Updates, Uttar Pradesh Parliamentary Constituency details 2019, Etah MP, Issues Political Analysis 20
Details

Parent Category: Political News
Last Updated:

Thursday, 24 January 2019 15:00
Etah Uttar Pradesh Parliamentary Constituency 2019, Etah Lok Sabha Constituency Details, Political News Etah,Uttar Pradesh Lok Sabha Elections 2019 News Updates, Uttar Pradesh Parliamentary Constituency details 2019, Etah MP, Issues Political Analysis 2019: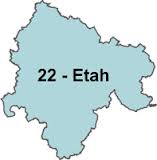 About the Constituency:
The Parliamentary Constituency of Etah is one of the 80 Lok Sabha constituencies of the state of Uttar Pradesh formed prior to the 1952 elections. The Etah Parliamentary constituency (constituency number 22) has a total of 1,278,295 electorates out of which 569,772 are females and 708,523 are males according to Election Commission of India 2009 reports.
Assembly Segments:
It presently comprises of five Vidhan Sabha segments.
Names of Assembly Constituencies

Kasganj

Amanpur

Patiyali

Etah

Marhara
About Etah:
The administrative headquarters of Etah district is situated in the city of Etah which is located in the western part of the state at a distance of 207 km from the national capital, New Delhi. This town lies at an average elevation of 170 meters. This district is part of the Aligarh Division. Hindi is the official language of Etah. The economy of this city is primarily dependent on agriculture. Etah has a promising number of notable schools and colleges, both government and private. National Highway NH 91 passes through this city.
Demography:
According to the census data of 2011, Etah has a total population of 131,023 of which 53% are males and 47% are females. It has a sex ratio of 863 females per 1000 males. 14% of the population is below the age of six and it has a sex ratio of 873 females per 1000 males. The city of Etah has an average literacy of 85.62 % with male literacy at 73% and female literacy at 63%. It is dominated by Rajputs and Yadavs, 66% of the population being Hindus.
Present Political Scenario:
Etah is Kalyan Singh territory, so Rajvir Singh, his son is suppose to win from this seat