Saharanpur Uttar Pradesh Parliamentary Constituency 2019, Saharanpur Lok Sabha Constituency Details, Political News Saharanpur, Uttar Pradesh Lok Sabha Elections 2019 News Updates, Uttar Pradesh Parliamentary Constituency details 2019, Saharanpur MP, Issu
Details

Parent Category: Political News
Last Updated:

Tuesday, 29 January 2019 11:55
Saharanpur Uttar Pradesh Parliamentary Constituency 2019, Saharanpur Lok Sabha Constituency Details, Political News Saharanpur,Uttar Pradesh Lok Sabha Elections 2019 News Updates, Uttar Pradesh Parliamentary Constituency details 2019, Saharanpur MP, Issues Political Analysis 2019: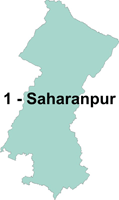 About the Constituency:
One of the 80 Lok Sabha constituencies of Uttar Pradesh, Saharanpur was formed in 1952 and comprises of five Vidhan Sabha segments of which one is reserved for the SC category. According to Election Commission of India 2009 data the total electorates in the Saharanpur Parliamentary constituency (constituency number 1) were 1,298,132 of which 589,706 are females and 708,426 are males.
Assembly Segments:
Names of Assembly Constituencies

Behat

Saharanpur Nagar

Saharanpur

Deoband

Rampur Maniharan (SC)
About Saharanpur:
Saharanpur is a municipality and headquarters of the district of Saharanpur. It is situated about 140 km from Chandigarh and 170 km from Delhi at an average elevation from 269 m. Hindi is the official language here although Awadhi and Urdu are pretty common as well. The city has many schools and colleges including a Paper Pulp Technology Institute. Economically, the district is dependent mostly on agriculture which includes cultivation of sugarcane, rice and potatoes. Cotton industries and coal mines are also located here. ITC Limited is based here. National Highway, NH-74 passes through the city and the city is also a major junction of the railways.
Demographic pattern:
The district sprawled over a 3,860 sq km and has a total population of 3,464,228 of which 51% consists of males and 49% consists of females. About 14% of the population is below the age of six and the sex ratio of 887 females per 1000 males. The growth rate of the population over 2001-2011 was 19.59%. The average literacy rate of Saharanpur is 70.49% with male and female literacy rates are 78.28% and 61.74% respectively.
Present Political Scenario:
Polarisation , the only factor which can help BJP
Sitting MLA of Saharanpur, Raghav Lakhan Pal has been given the ticket from here which is a decent choice, notwithstanding the fact that sitting MP Jagadish Rana of the BSP was interested in BJP ticket. In the polarized atmosphere prevailing in this region, chances are wide open.